4 hit Beyoncé songs that were almost sung by other artists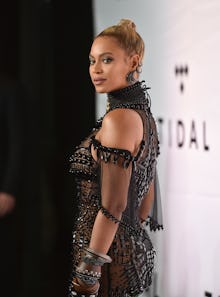 Since her early days of leading Destiny's Child, Beyoncé has been in formation. Every dance step, song note and visual has to be in line or she will not approve. Mrs. Carter is obsessed with her craft, but this passion has granted her longevity in the music industry, with her career spanning almost two decades. And she's still going strong with Lemonade up for album of the year at the 2017 Grammys, which could be one of the most honorable wins of her career. 
Because Bey is a boss, she's never been afraid to try new sounds even if it meant pushing outside of the R&B lane. In the past, there have been a few tracks that were originally meant for other artists that she took and made her own. With the success of these back-to-back hits over the years, it's clear Bey knew exactly what she was doing when she decided to take off those genre limits.
With that said, here are four hit Beyoncé songs you didn't know were almost sung by other artists.
"Pretty Hurts" 
Beyoncé's "Pretty Hurts" was originally offered to Rihanna and Katy Perry's team. But she was the first to secure the track, Sia told the New York Times. 
"When Beyoncé heard it, she slid into home base and just closed the deal," Sia explained. Katy Perry later said she wish she had taken it herself, but never had a chance to hear it.
"Halo" 
Songwriter Ryan Tedder of the band OneRepublic wrote "Halo" for Beyoncé, but when she took sometime to actually record it, Tedder said he offered it to Leona Lewis to prove a point about the song's greatness. 
"I sent it to them and they flipped on it. They loved it and instantly said they wanted to do it. I was like, 'Wait, wait, wait, no, it's not free yet! It's just in case.'"
"Irreplaceable" 
Beyoncé's "Irreplaceable" was originally meant for Faith Hill or Shania Twain, Ne-Yo told MTV News in 2008. Stargate producer Tor Hermansen and Ne-Yo also told the outlet that they had trouble figuring out a vocalist who could carry the song and wasn't sure Bey could pull it off. But before the Queen fell in love with it, Chrisette Michele heard the track as well, but passed.
"So I get this song that my A&R plays for me and it's 'Irreplaceable' and I'm like, 'Nah! It's cool, but it's not me. I'm a jazzhead,'" she admitted to Pop Matters in 2009. "So I turn it down. A couple months later, 'To the left, to the left' is every-stinking-where.
"Telephone" 
Beyoncé was featured on Lady Gaga's hit "Telephone" that was originally written for Britney Spears, who recorded a demo. After Spears decided to scratch it, Gaga picked it up for her album Fame Monster and tapped Beyoncé to assist with vocals.