'1-2 Switch' for Nintendo Switch: "Milk," "Eating Contest" and more motion-control games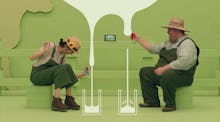 If you've ever bought a game console on launch day, there's one thing you know to be true: The first few months, there are maybe one or two games available that are actually good. The rest are glorified tech demos you bust out to show everyone what your new toy can do. Nintendo's new console, the Nintendo Switch, is no exception.
When the Nintendo Switch launches on March 3, you'll be able to pick up some truly expansive, amazing-looking games, like The Legend of Zelda: Breath of the Wild. But let's talk about another, stranger game. It's called 1-2 Switch, and it deserves your attention too — albeit for a very different reason.
1-2 Switch trailer
1-2 Switch trailer: Wait, what did I just watch?
1-2 Switch seems like a pretty standard Wii Sports-esque collection of motion-control mini games, right? If that's what you thought, you'd be mostly right. But it also has some incredibly strange games lurking in its library. I still can't decide if they're hilarious or moronic.
For example, there's "Eating Contest," where you hold a Joy-Con (that's what Nintendo insists the controllers are called) in front of your mouth and chomp down on a bunch of invisible subs. The right Joy-Con has a little sensor on the bottom that's registering every closure of this guy's mouth as a bite.
And then there's "Milk," where you — uh, do this:
So, far, reactions to 1-2 Switch — and "Milk," in particular — are basically what you'd expect.
I mean, it's probably a fine game overall, right? At least for a little while. And that's all you can really hope for with a console's launch titles.
Or, you know, you could just play Zelda.
More Nintendo Switch news and updates
For more info on what Nintendo revealed during its livestream, here's where you can get details on the Nintendo Switch price, release date, pre-orders and battery life. If you're interested in the Nintendo Switch's games, here's info on the new Super Mario Odyssey game, Legend of Zelda: Breath of the Wild, Splatoon 2, Xenoblade Chronicles 2, 1-2-Switch and the goofy boxing game Arms.