Mitski, Angel Olsen, Whitney contribute to anti-Trump charity project 'Our First 100 Days'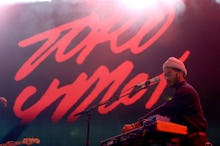 From repealing the Affordable Care Act to removing restrictions on "clean coal" mining, there's a good amount of political havoc swamp-drainer Donald Trump could exact in his first 100 days. Thankfully, to deal with all the headaches and traumas his move may cause, some of indie music's finest are banning together to offer some solace — an anti-Trump charity song collection called Our First 100 Days. 
Artists such as Angel Olsen, Mitski, Whitney, Toro Y Moi, the Range, Tim Heidecker, Mountain Goats, Cherry Glazerr, Beach Fossils, PWR BTTM, Minus The Bear and How To Dress Well are all confirmed to contribute songs, which will roll out one a day for the first 100 of Trump's presidency. 
It'll put you back $30 for a subscription to access unlimited streaming and downloads, but all the money raised will go to organizations working to resist some of the more controversial aspects of Trump's agenda.
"Many of us woke up the morning after the election in a state of shock. Everything was different," Phil Waldorf of Secretly Group, the same group that put together 30 Days, 30 Songs, an anti-Trump project released in anticipation of the election (later renamed 30 Days, 50 Days), said in a press release. 
"Not only is it a collection of great music, it is the music community coming together, supporting many important organizations who will be the first line of defense against the policies of the new administration. We hope that people not only love the music and discover some new things with this collection, but they see it as an easy way to make a contribution to a cross section of organizations that need the support right now."
The money earned will specifically go those organizations "on the front lines of climate, women's rights, immigration and fairness," the collection's website reads. That includes the People's Climate Movement; All Above All, which fights for reproductive rights; Cosecha, which fights for the "dignity, and respect for the entire immigrant community;" Hoosier Action, which helps "building the political power of working families and individuals in the state of Indiana;" and Southerners On New Ground (SONG), a "Queer liberation organization" in the South.
None of the protest music released before the election was enough to stop the Trump train, but perhaps it still can do some good in helping prevent a complete undoing of all the liberal-minded hold dear. The first new music will seemingly drop on the first day Trump is in office, when the world will need uplifting music most to drown out the echoes of the B-list inaugural galas.