Steve Harvey's Net Worth: Here's how much the reality star turned housing authority makes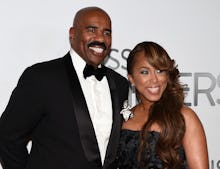 It looks like President-elect Donald Trump just added another member of the 1% to his team — and a fellow reality star to boot. 
Family Feud and Miss Universe Pageant host Steve Harvey will team up with incoming Housing and Urban Development Secretary Ben Carson on a new housing initiative, according to a tweet posted by Harvey on Friday afternoon; it's unclear whether any of the specifics have been worked out yet. 
According to the Daily Beast, Harvey was a former backer of President Barack Obama's election campaign but is also a longtime fan of Trump: "I like [Trump], personally. I do! I think he's exciting for politics."
While he's not nearly as wealthy as Trump or some of the other members of his Cabinet, Harvey is surprisingly well-off thanks to a diverse range of media and endorsement projects. 
He might be worth as much as $100 million, according to the Richest, which is easily enough to put him among the richest comedians — right above Ricky Gervais, who is worth a reported $90 million, according to the Observer.
In addition to a longstanding run on Family Feud — which netted him $14.5 million in 2016, according to Forbes — Harvey also locked in a multi-year deal to host Miss Universe, and a source told ET that it was "more than they've ever paid before for a host." 
Harvey also has a radio show, a daytime talk show and the royalties from his book Think Like a Man, which has spawned a hit series of movies — all of which are churning out royalties. 
Finally, there's his endorsements, which include Green Dot and T-Mobile, the latter of which paid Harvey to appear in an ad broadcast during last year's Super Bowl. 
In addition to their wealth, reality show backgrounds and shared connection to the Miss Universe Pageant, Harvey and Trump have a mutual taste for political incorrectness: Earlier this week, Harvey came under fire for a series of off-color jokes about Asian men.
Sign up for The Payoff — your weekly crash course on how to live your best financial life.