Greenwich Republican arrested for assaulting town worker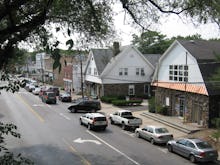 A prominent local Republican in Greenwich, Connecticut told a town worker "I love this new world, I no longer have to be politically correct" before adding she was "nothing but a bloodsucking lazy union employee" and pinching her in the groin, according to a warrant reported on by the Westport Daily Voice.
Local authorities charged 71-year-old Christopher von Keyserling with fourth-degree sexual assault on Wednesday afternoon. According to the Daily Voice, von Keyserling posted $2,500 bond and is scheduled to appear in court on Jan. 25.
According to Greenwich Time, von Keyserling is a member of Greenwich's Representative Town Meeting, the local municipal legislature. Attorney Phil Russell told the paper the incident was "jocular," and said "There was a playful gesture, in front of witnesses. It was too trivial to be considered anything of significance. To call it a sexual assault is not based in reality."
But in court papers, police said video footage of the incident reflected the 57-year-old female employee's version of events, though it was "unclear" from the footage where von Keyserling's hand was, according to Greenwich Time. According to the Daily Voice account, in a warrant, the employee told von Keyserling she would respond with physical force if he touched her again and he responded "It would be your word against mine and nobody will believe you."
Von Keyserling may have been referring to Republican President-elect Donald Trump, who ran on a campaign platform denouncing political correctness. During the campaign season, the Washington Post released a 2005 videotape of Trump bragging to Access Hollywood host Billy Bush that famous men like him could do whatever they wanted to women, even "grab them by the pussy."