Donald Trump won't visit African-American museum after feud with civil rights hero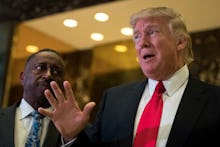 Following a nasty, racially-tinged feud with civil rights hero Congressman John Lewis over the state of his "horrible" district and "burning and crime-infested inner-cities," Republican President-elect Donald Trump has canceled a Martin Luther King Jr. Day visit to the National Museum of African American History and Culture.
According to ABC News, transition team officials first mentioned the visit on Saturday amid the fighting with Lewis, who called Trump not a "legitimate president" following a briefing on Russian government interference in the Nov. 8 presidential elections. The president-elect responded to Lewis' comments by trashing the 76-year-old's district in terms which carried unmistakable racial overtones. (While the city of Atlanta does have problems with crime, Lewis' district is extremely diverse and includes the city's cosmopolitan business and educational districts.)
But on Saturday, museum representatives told BuzzFeed News they had not heard of any visit.
As ABC noted, Lewis, a prominent civil rights-era activist who was beaten by police at a 1965 march in Selma, Alabama, was the sponsor of the "original legislation to found the Smithsonian museum in 1988, and then fought for 15 years until the proposal was signed into law by President George W. Bush." The long-awaited museum finally opened its doors in September 2016 to widespread acclaim, and was visited by President Barack Obama on its opening day.
According to ABC, Trump's visit was cancelled "due to scheduling issues and was not fully planned out." But regardless of the cause of the cancellation, it will be very hard for Trump to dodge the impression the whole mess was avoidable — and reflects either a lack of good faith or understanding in his handling of issues involving the black community.
Jan. 15, 2017 at 10:54 a.m.: This post has been updated.