Protesters prefer black: How black became the color of choice for self-styled subversives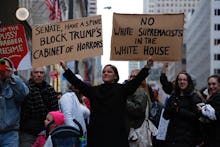 This is a picture of an anti-Trump protest in Washington, D.C. after the election.
This is a picture of an anti-Trump protest in New York City after the election.
This is a picture of a Black Lives Matter protest. 
This is a picture of a protest in front of a French newspaper, threatening layoffs. 
Here is a picture of a protest outside of the Russian embassy in Turkey.
Although none of these protests had a dress code, the color that pervades each one of these protests is, indisputably, black. 
Black is, of course, a very popular color, universally flattering and versatile. It's winter in the northern hemisphere, so black is also more prevalent. 
But undoubtedly, when worn by swarms of people during a protest, black has the innate ability to make a statement. Therefore, it's become a very popular color to wear at protests.  
On Jan. 20th, this will be evident once again. On Inauguration Day in Washington, D.C. a group will gather in Logan Circle in Washington, D.C., with everyone in attendance encouraged to wear black. 
The reason behind wearing all black is that this gathering is what's known as a black bloc, a protest tactic most commonly associated with anarchist demonstrations, although this protest will be taking a stand against capitalism, fascism and the incoming Trump administration. 
The reasoning behind a black bloc (and wearing black at protests period) is twofold. First, there's symbolism in all being united in one color while united in beliefs as well. Black is serious, it's strong. Black is intimidating and when worn by swarms of people, a bit menacing. 
In general, everyone wearing one color shows a united front of people, who are angry and standing up for either something they believe in or standing up against something they don't. 
Outside of D.C., people are already planning on wearing all black as a symbol of resistance, asking people to tag pictures of themselves in all black with #TrumpBlackout to start a movement online. 
Then there's the idea that everyone wearing all black gives them a sense of safety through anonymity during protests. No one can identify you by what you're wearing, because you're all wearing the same thing. 
It'd be foolish to wear, say, bright yellow to a protest or even red. You'd stick right out. Black is a neutral, but a powerful one. 
Sometimes during black blocs and similar protests, even the faces are covered with a black bandana or scarf as both an intimidation technique and also as protection against pepper spray, tear gas and whatever else is in the air. So not only does black lend itself to helping protect identities, but protect lives as well. 
Yes, black can be chic and flattering and give you a cosmopolitan air, but during protests, it can actually be vital for survival. Come Inauguration Day — and the days following — we'll see how many keep this in mind.