Pro-Trump nationalist warns that things might get physical on Inauguration Day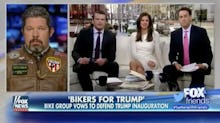 When hundreds of thousands of protesters arrive in Washington, D.C., to protest President-elect Donald Trump's inauguration this month, they won't just be held back by police and the National Guard. They'll have to face down a nationalist bike gang.
Pro-Trump biker brigade is holding a rally right along the parade — a "halftime show" that they promise will be their biggest rally yet, after a year of providing volunteer security to intimidate anti-Trump protestors on the campaign trail. And now, claiming to have the material support of Donald Trump himself, Bikers For Trump are warning that things might get physical.
Bikers For Trump founder Chris Cox went on conservative morning show Fox & Friends on Friday to say that they'll be there to create a "wall of meat" between civilians and protestors who, according to Cox, could get violent and attack attendees.
"We'll be shoulder-to-shoulder with our brothers and we'll be toe-to-toe with anyone that is going to break through any police barriers, that is going to be assaulting women, spitting on them, throwing things at them," Cox told Fox & Friends.
Mic has spoken with over a dozen organizers for various counter-inaugural protests nationwide, and could find no plans of a violent protest. For groups like the Women's March on Washington, non-violence is listed as a core value.
Cox doesn't just have the support of his bikers, but allegedly has the material support of Donald Trump himself. Cox took to Facebook Live earlier this month to say that he'd been on a 10-minute phone call with Donald Trump in the first week of January — Cox said Trump thanked the gang for their presence at his rallies, and asked if Cox needed anything for his Inauguration Day rally.
"He told me that he instructed his staff to give me and Bikers for Trump the resources we need to make this a successful rally," Cox said about his call with Trump.
We've reached out to Trump's camp to ask if they could elaborate on what kind of resources Trump will allegedly provide. Bikers For Trump was the first group to get permits for Inauguration Day, even as large anti-war coalitions threatened to file lawsuits to get their own permits to protest.
For those obsessed with Trump's apparent relationship with Putin's Russia, Bikers For Trump reminds them of a Kremlim-backed parallel: the ultra-nationalist Russian gang The Night Wolves. 
The Night Wolves refer to themselves as an army for Russia, with over 5,000 members. With Putin's blessing, the Night Wolves hold rallies and conventions in the thousands, with historical reenactments, pyrotechnic shows, patriotic theater and thousands upon thousands of adoring fans. The group is led by a man called called "The Surgeon," a militaristic influence broker who's sworn to defend the motherland and is one of Russia's most visible nationalist heroes.
Bikers For Trump are no Night Wolves. Mic could not find a single incident of violence among the pro-Trump bikers at any rally, and most of their current activity consists of tweeting angrily at "Bikers 4 Trump," which Bikers For Trump claims is a scamming imposter group. And decided unlike The Surgeon, Chris Cox is most famous as his role of "Lawnmower Man," a title he earned for volunteering to mow the lawns of various national memorials during the 2013 government shutdown.
Even without ruffian bona fides, Bikers for Trump has a strong hold on the conservative imagination. They have a wide social media reach with tens of thousands of shares on their posts, many of which summon up racist tropes about immigrants or refugees to stoke xenophobic fears. When niche news sites write about Inauguration Day protests, the bikers come up in the comments section, invoked as a paramilitary solution that should take care of pesky protestors.
On Inauguration Day, Bikers For Trump's spot along the parade route is apart from the anti-Trump protests, a distance that representatives from the National Park Service told Mic is intentional for peacekeeping purposes.
We've reached out to Washington's Metropolitan Police Department to ask how they plan on dealing with a self-proclaimed security force providing support for Inauguration Day, and will update this story if we hear back.