Nostalgia Bacon Express Crispy Bacon Grill is a toaster made specifically for bacon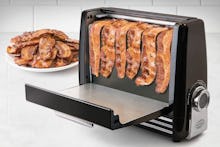 If you've ever yearned for an easier, hassle-free way to grill crispy bacon at home without all the grease and paper towels, the Nostalgia Bacon Express Crispy Bacon Grill can help. 
The culinary device may look like your standard, run-of-the-mill bread toaster, but it can cook up to six strips of regular or thick-cut bacon in "minutes," according to the company's Amazon listing. 
An easy-to-turn dial controls cooking heat and can be adjusted depending on bacon thickness to ensure every slab is cooked to perfection. Meanwhile, a drip tray at the bottom catches any fatty oils. 
Its nonstick cooking plate makes cleanup a snap. Two cool-touch handles mean you're less likely to burn yourself when transferring the oh-so-yummy slices, making it that much easier to eat as much grilled meat as you possibly want in one sitting.
At $39.99, this grill isn't exactly cheap, but it's hard to put a price on how much bliss more bacon will add to your life. 
Mic Essentials brings you handpicked deals, reviews, recommendations and gift ideas. For more ideas, see our lists for best fitness smartwatches, weed tech and vapes. If you buy something through a link on this page, Mic may earn a small commission.