The NVX 200 turns smartphones into high-tech desktop gadgets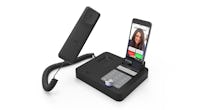 It's no secret that mobile phone ownership is on the rise. Today's smartphones offer flexibility, portability and the kind of video and audio capabilities often found lacking in other devices. In fact, a 2014 health survey by the Centers for Disease Control and Prevention found 44% of all American homes relied solely on wireless phones, a number up 3% from the previous year and is steadily increasing every year.
Despite the obvious benefits associated with cellphone use there are some drawbacks for businesses and workplaces that rely on them for day-to-day use. They can't easily be shared amongst multiple employees and smaller smartphone speakers aren't always conducive for conference calling and group discussions with large groups of people. While in years past consumers might have been forced to put up with these less-than-ideal features a tech company, named  Invoxia,  has created a device that resolves these issues in a novel way. The NVX 200 merges the utility of desktop phones with the high-tech features found in smartphones to create the perfect cubicle companion for any office. 
Behind its modern aesthetics is a gadget that features impressive processing powers, offers up clear audio and turns any smartphone with a lightning, micro-USB or USB Type-C connector (think: BlackBerry, Android and some Apple devices) into a traditional-looking desktop phone, without any cable muss and fuss,.
Once a smartphone is plugged in to the NVX 200 users can access their mobile call lists, mobile apps — like Skype, FaceTime and WhatsApp — as well as pre-programmed speed dials. Its patented audio technology cancels out ambient noise to better highlight speaking voices and can connect with nearby Bluetooth-enabled multiple devices. Its black handle helps mimic the feel and look of a traditional desktop phone, minus all the cable muss and fuss, while a knob found at the bottom of the number pad allows for on-demand muting and volume control. 
For office professionals loath to give up their smartphones or worried about possible health hazards associated with constant cellphone use this device can help, as long as you're willing to part with $249. 
Mic Essentials brings you handpicked deals, reviews, recommendations and gift ideas. For more ideas, see our lists for best fitness smartwatches, weed tech and vapes. If you buy something through a link on this page, Mic may earn a small commission.