Will there be a 'Sherlock' season 5? This is what we know so far.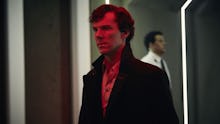 One of the greatest pleasures of welcoming the new year was also welcoming the return of Sherlock, which premiered its fourth season on Jan. 1. After ending on a tense, and seemingly final note on Sunday, fans can't help but wonder if this is the end of the series or if there's more to come.
Well, while a fifth season has yet to be confirmed, creators Steven Moffat and Mark Gatiss aren't discounting it. At a special screening of "The Final Problem," the last episode of season four, Moffat spoke to the Independent about the likelihood of another season.
"If this is the last time — and I'm not planning on it to be, but it might be — it is possible that we could end it," he said. 
In "The Final Problem" we learn about Sherlock's past, particularly how and why he's blocked memories of Eurus, a sister that he convinced himself never existed. Episode three sees Eurus, a brilliant psychopath, reunite with Sherlock and Mycroft. She decides to play a series of mind games that culminates in major revelations for Sherlock.
Given that the episode concludes with Sherlock coming to terms with traumas from his past and his own goodness, there's something about the season four ending that does feel final.
"We couldn't have ended it on any of the previous series because there was what have been great cliffhangers," Moffat explained when talking about this ending.
Looking at the future, it would be difficult not to take Benedict Cumberbatch's and Martin Freeman's availability into account. 
"These three [episodes], we've very, very pleased with them. And everybody's very keen to carry on. It's just genuinely difficult to schedule everyone's diaries," Gatiss told TVLine. "It was a nightmare to schedule this season... and that's not going to go away. I mean, the success of Doctor Strange is not going to make Benedict short of work."
So, if the whole team can make it work, what would a possible fifth season look like? Well, apparently Moffat only would say that it would see Sherlock and John Watson "solving crimes."
"The Final Problem" aired on PBS Masterpiece on Jan. 15 at 7 p.m. Eastern. It will stream online until Jan. 29.