New O.J. Simpson series names another suspect in the murder of Nicole Brown, Ron Goldman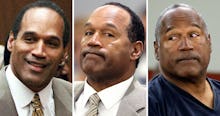 The new O.J. Simpson documentary series on Investigation Discovery has named Simpson's son, Jason, as a suspect in the murders of Nicole Brown and Ronald Goldman.
Is O.J. Innocent? The Missing Evidence, is a six-part series narrated by Martin Sheen, who is also a producer. The first two episodes, "New Evidence" and "Follow the Blood," aired Sunday at 9 p.m. Eastern. 
Is O.J. Innocent? The Missing Evidence re-examines photos from the crime scene, along with photos and interviews with the Goldman and Brown families. Experts on the series include original case forensic scientist Henry Lee along with Kris Mohandie, an LAPD forensic psychologist, Sgt. Derrick Levasseur from the Rhode Island police and private investigator William Dear.
Dear is the author of O.J. Is Innocent and I Can Prove It, a book that received some strong criticism in the media. He states in the series that he may possess the murder weapon — a knife found in a locker allegedly belonging to Simpson's son, Jason. The series attempted to reach Jason for comment, but was unsuccessful.
The 1994 killing of Simpson's ex-wife Nicole Brown Simpson and Ronald Goldman resulted in a lengthy trial. Simpson's acquittal, which was announced Oct. 3, 1995, was a polarizing event that continues to impact present-day culture. Interest in the case was recently renewed through several TV series, including The People v. O.J. Simpson: American Crime Story and O.J.: Made in America. 
Is O.J. Innocent? The Missing Evidence states repeatedly that the investigators' theories are their own. The series continues Jan. 16 with "Person of Interest" and "About the Alibi" and concludes Jan. 17 with "The Charlie Theory" and "What Really Happened."