What will happen in 'Victoria' episode 2?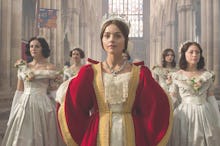 When it comes to film and TV, exploring the lives of royal families and the British elite is always on trend. After the success of Downton Abbey, PBS Masterpiece has brought us Victoria, a series about the long-reigning British monarch. 
The first season follows a younger Victoria (similar to the film The Young Victoria, starring Emily Blunt), and after premiering its first episode on Sunday, we've already learned a little bit about what is in store for episode two.
When the series begins we meet Victoria as a young queen, a teenager who doesn't fully understand the power she is coming into. Episode two follows her coronation, and Masterpiece offers a summary of what Victoria's life is becoming. 
Dodging both rioters and suitors, Victoria grows into her royal role. As she faces pressure to marry, her friendship with Lord Melbourne grows more complex.
Although Lord Melbourne acts as a father figure and mentor, episode one hints at a deeper, far less platonic relationship between himself and the new queen. Despite the fact that she must marry, the queen sees him as not only an ally — perhaps one of the only figures she trusts to guide her — but as something more illicit, especially by the monarchy's standards.
We can presume that episode two will continue to depict an impossible balancing act: her duties to her country and people and her own personal desires and her relationship with her family.
Episode two of Victoria will air on PBS on Jan 22. The first episode is available to stream for free online.