Who is Terry A.D. Strickland? FBI most wanted suspect captured in Texas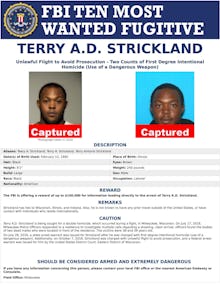 Terry A.D. Strickland, a 24-year-old Wisconsin man on the FBI's Ten Most Wanted Fugitives list, was captured Sunday, Jan. 15 at a traffic stop in El Paso, Texas. Strickland was charged with fatally shooting two men in Milwaukee, Wisconsin, on July 17, 2016 and was captured without incident.
According to the FBI, an arrest warrant was issued for Strickland on July 28 after he was charged with "first degree intentional homicide (use of a dangerous weapon)" for the deaths of Maurice Brown Jr. and Michael Reed. On Oct. 7, another arrest warrant was issued for Strickland after he was charged with "unlawful flight to avoid prosecution."
Doug Lindquist of the El Paso FBI told reporters the arrest came following a tip:
"We got a tip from our public call line, our public access line stating that 'hey, I think I recognize this person.' A total of 18 law enforcement personnel from FBI and El Paso PD were involved in this overnight surveillance and arrest operation."
During a press conference, Lindquist detailed what led to Strickland's arrest, noting the traffic stop involved four marked patrol cars and two FBI vehicles.
"On Jan. 14, 2017, FBI special agents conducted an interview regarding a tip from our public access line. The information involved the possibility of FBI Top Ten fugitive Terry Strickland temporarily residing in El Paso," Lindquist said. "FBI and partner agencies worked through the night of Saturday, Jan. 14 and well into the early morning hours of Sunday, Jan. 15 to locate Strickland."
Milwaukee-based Fox6Now notes Strickland is the 512th person to land on the FBI's Top Ten Most Wanted list, the 480th to be captured, and the fourth to be captured by the FBI's El Paso division.