4 reasons why Rep. John Lewis is the perfect voice to challenge Donald Trump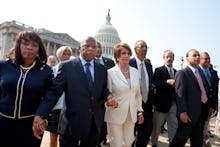 Rep. John Lewis – the legendary civil rights icon – said during a recent interview that he does not believe Donald Trump is a "legitimate president" and that he will not be attending the inauguration Friday. 
Trump, of course, could not resist taking to his favorite social media platform to lash out against Lewis. The president-elect called the man who was nearly killed while leading a peaceful march to Montgomery "all talk, talk, talk – no action or results" in a "sad!" and racially-charged attack the weekend before Martin Luther King Jr. Day.
Lewis has spent his storied career fighting the very racism Trump made central to his campaign for the presidency. Here's what makes the Presidential Medal of Freedom recipient the perfect voice to challenge Trump:
Lewis helped organize the March on Washington
As the director of the Student Nonviolent Coordinating Committee, Lewis was the youngest of the "Big Six" civil rights leaders who organized the historic March on Washington, where Martin Luther King Jr. delivered his "I Have a Dream" speech.
Lewis also spoke at the 1963 demonstration, blasting politicians "who build their careers on immoral compromises and ally themselves with open forms of political, economic and social exploitation."
"Where is the political party that will make it unnecessary to march on Washington?" Lewis asked. "We are tired.  We are tired of being beaten by policemen.  We are tired of seeing our people locked up in jail over and over again. And then you holler, 'Be patient.' How long can we be patient?  We want our freedom and we want it now."
Lewis was one of the original Freedom Riders
In 1961, Lewis was among the integrated groups of black and white civil rights activists to ride interstate buses across the Jim Crow south to challenge segregation. The Freedom Riders set the stage for the nonviolent resistance of the civil rights movement, captured the world's attention and inspired other activists.
Lewis helped lead the Selma to Montgomery marches
During a march for voting rights from Selma to Montgomery in 1965, Lewis and other demonstrators were attacked by Alabama state troopers on the Edmund Pettus Bridge after being ordered to disperse in what's now known as Bloody Sunday.
Lewis was beaten with a nightstick and kicked to the ground by state troopers. "I felt like I was going to die," Lewis recounted later.
"What happened in Selma is part of a far larger movement which reaches into every section and state of America," Johnson said. "It is the effort of American negroes to secure for themselves the full blessings of American life."
The three marches would lead to the passage of the Voting Rights Act and to President Lyndon Johnson calling on all of America to "overcome the crippling legacy of bigotry and injustice."
"Their cause must be our cause, too," Johnson continued.
Lewis has continued his activism as a congressman
Lewis has been a Democratic stalwart throughout his career and has continued to employ nonviolent resistance as a congressman. As a representative, Lewis has participated in sit-ins demanding gun control legislation and immigration reform, and protests against the Iraq War and genocide in Darfur; Lewis has been arrested 45 times for his civil disobedience, five of which came during his tenure as a congressman.
Lewis has also been a sharp critic of the president-elect, comparing Trump to George Wallace, the segregationist governor of Alabama in the 1960s.
On Monday, days after Trump attacked him on Twitter, Lewis called on leaders to "stand up, speak out" against hate.
"The way of love is a better way," Lewis said. "The way of peace is a better way."