'DWTS' pro Peta Murgatroyd posts inspiring photo of real post-baby body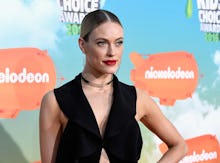 Dancing With the Stars' Peta Murgatroyd posted a candid Instagram photo Sunday, discussing her body after giving birth, and dismissing the expectation that women should lose weight as quickly as possible. 
Murgatroyd posed for the photo in tight pants and a bra, with the caption, "Real life: I took this photo 8 days post birth. I left the hospital looking 5 months pregnant. Many people think a woman should shrink right back to her pre-birth weight immediately. That is just not the truth for most. The female body is incredible and resilient, but healing and strengthening take time. Now it's time for patience and hard work. Lots of love to all the new mamas out there on the journey. #yesihaveascrunchieinmyhair#shaiiswortheverypound"
Murgatroyd and her fiancé, Dancing With the Stars' Maksim Chmerkovskiy, had their first child Jan. 4. 
Murgatroyd has joined numerous celebrities, including Zooey Deschanel, Kerry Washington, Hillary Duff and Carrie Underwood, in speaking out against the expectations of returning to their pre-baby weight immediately after giving birth. The average woman gains 25-35 pounds during pregnancy, but print and online media often run articles about stars who lose weight a few weeks after leaving the hospital, and articles supposedly celebrating celebrities for "taking their time" to lose weight often appear like insults rather than compliments. 
Chrissy Teigen, known for her candid statements, told Today that celebrities also set unrealistic expectations about losing baby weight.
"Anyone in the public eye, we have all the help we could ever need to be able to shed everything. So I think people get this jaded sensation that everybody's losing it so quickly, but we just happen to be the ones who are out there. We have nutritionists, we have dietitians, we have trainers, we have our own schedules, we have nannies. We have people who make it possible for us to get back into shape. But nobody should feel like that's normal, or like that's realistic."
The focus on losing weight has been described as dangerous, with medical specialists crediting it to triggering relapses in eating disorders.