Russian version of 'Sherlock' season 4, episode 3 was leaked over the weekend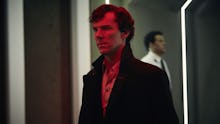 Over the weekend, Russia's state broadcaster leaked Sherlock's season 4, episode 3, "The Final Problem." Now the question is whether that leak occurred intentionally. According to the Telegraph, the BBC is trying to find the answer about a mishap affecting the network's most watched drama in over a decade.
What happened
The BBC aired "The Final Problem" on Sunday, Jan. 15. Yet the Russian version appeared online the day before that. The leak also included a three-second announcement for Russia's Channel One, which owns the rights to Sherlock in Russia.
The Sherlock team urged fans not to share the episode via Twitter.
MSN.com reports that Sherlock producer Sue Vertue also tweeted at fans to please not tweet the Russian version. Russia's popular social networking site, VK.com, added "Spoilers: Sherlock" to every message discussing the show.
Not an accident
So was this leak an accident? BBC thinks not. A BBC source called the leak "more than an accident." Now the corporation plans to take action. A BBC spokesperson said, "BBC Worldwide takes breaches of our stringent content security protocols very seriously and we have initiated a full investigation into how this leak occurred."
According to NDTV, Russian Twitter users' tweets about the leak trended over the weekend. 
Why would Russia do this?
According to the Independent, Moscow was not happy with the BBC's recent decision to produce more Russian language content. The Russian government also apparently threatened to freeze BBC finances in Russia after Royal Bank of Scotland subsidiary Natwest refused to serve Russia Today, Russia's state broadcaster.
So is this just the latest in a line of Russian cyber-attacks, including the hacking of the U.S. presidential election? Ben Nimmo, who is an information defense fellow at the Atlantic Council think tank, told the Independent he thinks so.
"As Sherlock Holmes said himself, 'When you've eliminated the impossible, whatever remains, however improbably, must be the truth,'" said Nimmo. "There appears to be no profit motive, no benefit to the broadcaster from doing this. What remains is a political motive. The most obvious explanation is that this is punitive."
Yet Russia's Channel One blames hackers. 
"According to preliminary findings, the cause was a hacker attack," said Channel One spokeswoman Larisa Krymova in a statement. She added that the channel "has been in close contact with the BBC from the moment it learnt of the leak and is carrying out an investigation to identify the source of the material uploaded onto the Internet."
Echoes from the past
This isn't the first time such a leak has happened. In 2014, scripts and unfinished footage from Doctor Who — another Steven Moffat show — somehow made it out of the BBC Worldwide Miami office. According to the BBC's commercial branch, that leak was a "damaging mistake" and resulted in disciplinary action for the party responsible.