Donald Trump's John Brennan criticism and other tweets you missed over the weekend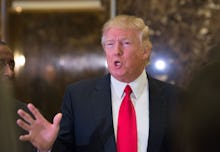 If you didn't spend the weekend on Twitter, then you may have missed some important tweets from President-elect Donald Trump. From starting a fight with Congressman John Lewis, to demanding an apology from CIA Chief John Brennan, here's a roundup of everything our future president posted on Saturday, Jan. 14 and Sunday, Jan. 15.
Attack on John Lewis
Congressman John Lewis told NBC's Meet the Press on Friday that he didn't see Trump as a "legitimate president." The civil rights leader added that this would be the first time in 30 years that he would not be attending the inauguration. Trump fired back at Lewis with the following tweets.
Inauguration Day
Following his mini-Tweet storm about John Lewis, Trump used the social media platform to reveal that his Inauguration Day celebration is "turning out to be even bigger than expected." Meanwhile, a Democratic boycott of the festivities is gaining steam. Over 12 members of Congress have already stated that they will not attend the swearing in of Trump. Jennifer Holliday also pulled out of performing at the Inauguration.
Jobs
Trump seemingly responded to the Democratic Inauguration boycott with a series of messages on Sunday morning. He turned attention to his plans of bringing jobs back to the U.S. "WIN!"
A divided country
Later in the afternoon, the president-elect tweeted about the "divided, angry and untrusting" country. 
The intelligence dossier
Donald Trump's main area of interest this weekend — at least on Twitter —revolved around the intelligence dossier leaked last week that claimed he had ties to Russia and watched a "golden showers (urination) show."
He shared his first tweet on the subject Saturday afternoon.
On Sunday he followed it up by tweeting a quote from Washington Post investigative reporter Bob Woodward. Woodward went on Fox News Sunday to share that he thought the dossier was a "garbage document."
Later in the day he also accused outgoing CIA Director John Brennan of leaking the "fake news" regarding Russia and the "golden showers."
Saturday Night Live
The highlight of Donald Trump's weekend Twitter activity definitely goes to his response to Saturday Night Live's recent skit involving Alec Baldwin. Baldwin reprised his role as the president-elect for a press conference to address "pee pee gate." Needless to say, Trump was not amused.