When will 'Sherlock' season 4 be on Netflix in the U.S.?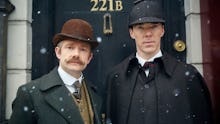 With the final episode of the fourth season of Sherlock having aired on PBS on Sunday, it's about time we start wondering when the entire season will find its way to Netflix. 
Well, while season four is already available to stream in Italy, Spain, Denmark, Portugal, Norway, Finland and Sweden, it doesn't look like it'll be available stateside until the summer.
Based on the pattern set by the second and third seasons, which, like the fourth, first premiered on TV on New Year's Day, it looks like season four will make its way to Netflix in June or July. According to Netflix Life, both season two and three were made available on the streaming platform six months after the first episode aired.
For those who may want to catch up on prior episodes, seasons one through three are available to stream. Also, episodes two and three of season four can be viewed for free on the PBS site. They expire on Jan. 24 and Jan. 29 respectively.