Happy Birthday to Lin-Manuel Miranda! Here's what's in store for the 'Hamilton' genius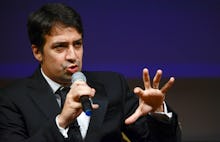 Lin-Manuel Miranda celebrates his birthday Jan. 16, and, with film, TV and more musical theater on the horizon, the award-winning Renaissance Man has a busy year ahead of him. 
It's hard to imagine the Emmy, Grammy and Tony winner could become more accomplished than he already is. In 2016 alone, he won numerous Tony Awards for his smash Broadway musical Hamilton, collaborated with Jennifer Lopez, was featured in James Corden's Carpool Karaoke and hosted Saturday Night Live. He also campaigned for Hillary Clinton, released The Hamilton Mixtape and promoted Disney's animated film Moana, for which he composed music. What a busy year.
Going from the stage to the screen
But Miranda isn't slowing down and taking time off in 2017.  He will be producing film and TV adaptations of the fantasy books The Killkinger Chronicle, as well as composing original music for the series, which narrates the adventures of the wizard Kvothe. The film will be based on the first book, and the series will expand its horizons beyond the plots of the books. He also will have the option to participate in a possible stage adaptation. 
Mary Poppins and The Little Mermaid 
Miranda will also be hitting the big screen, teaming up with Emily Blunt to star in Mary Poppins Returns, which will be released Dec. 25, 2018. Blunt will star as the "practically perfect" nanny, and Miranda will play Jack, a street lamplighter. In the movie, the two pay a visit to the now grown-up Jane and Michael Banks in Depression-Era London. 
Miranda will also collaborate with famed Disney composer Alan Menken on a live-action adaptation of The Little Mermaid, which he will also produce. (His son, Sebastian, is named after the crab in the animated movie.) Besides a little time with Disney, he will be producing a film adaptation of his Tony-winning Broadway debut musical In the Heights. 
But Lin's not done with Hamilton
You might have heard of Hamilton, that little musical that Miranda wrote and starred in. Well, it's crossing the pond to play in London beginning in November. Previews begin Nov. 21, and the show officially opens Dec. 7. Miranda, who starred in the show at New York's Public Theater and on Broadway, plans to perform in the London production.