Who is Noor Salman? Orlando mass shooter Omar Mateen's wife arrested by FBI.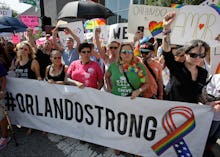 Noor Salman, the wife of mass shooter Omar Mateen, was arrested by the FBI Monday in connection with the 2016 Pulse nightclub massacre that left 49 people dead and 53 wounded in Orlando, Florida.
She has been charged with "aiding and abetting by providing material support to a terrorist organization and obstruction of justice," according to a statement by Orlando Police Chief John Mina published in Orlando Weekly.
Mateen was killed in a shoot-out with police after carrying out the deadliest mass shooting in modern U.S. history at a gay nightclub in Orlando last June. Since then, authorities had been considering leveling charges against Salman, whom they suspected of lying about what she knew of her husband's planned attack, the New York Times reports.
Salman, 30, is expected to appear in a San Francisco federal court Tuesday.
What we know about Noor Salman so far 
Salman, a child of immigrants from the West Bank who grew up in Rodeo, California, met Mateen on a dating website in 2011. In an interview with the New York Times, she said that he had physically and verbally abused her during their marriage.
"He had no remorse," she told the Times.
She claimed that she did not know about Mateen's plans to commit mass murder and that she believed he was out with a friend on the night of the attack. The two reportedly exchanged text messages on the night of the massacre; she asked him where he was and attempted to call him.
But investigators doubted her account, the Times reports. She had gone with Mateen to Orlando when he scouted the club, but she said she did not know the purpose of the visit. She also knew he bought ammunition in the days leading up to the attack, but said she did not know he had planned to use it in a mass shooting; he was a security guard who frequently purchased ammunition, according to the Times.
Members of Mateen's family have defended Salman, saying she "doesn't know anything" with regard to the attack, and her lawyer has said that she bought Mateen a Father's Day card the day of the attack and expected him to return home that night, suggesting she was unaware of his plans.
In his statement to Orlando Weekly, Chief Mina said he was "glad to see" Salman charged and that that "some measure of justice will be served in this act of terror that has affected our community so deeply."
"Nothing can erase the pain we all feel about the senseless and brutal murders of 49 of our neighbors, friends, family members and loved ones," Mina said in the statement. "But today, there is some relief in knowing that someone will be held accountable for that horrific crime."