Martin Luther King III says he had a "constructive" conversation with Donald Trump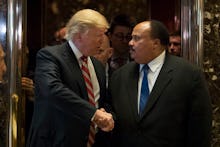 President-elect Donald Trump, who spent the weekend attacking civil rights icon John Lewis, held a "constructive" meeting with Martin Luther King III and other voting rights advocates at Trump Tower Monday.
The Trump team framed the meeting as a conversation about the "legacy of Dr. King and how we can continue to pursue that under the Trump administration."
The meeting was "constructive," King said afterward. "We believe we have provided a solution" to fix a broken voting system.
King, the eldest son of the late civil rights icon, is the president of the Drum Major Institute, a progressive policy think tank. He wrote in the Washington Post last week that voter identification requirements in states like Pennsylvania, Michigan and Wisconsin may have deterred minority voters from participating in the 2016 election. 
Because Trump repeatedly stated that the electoral system is broken during the campaign, the Trump administration may represent an opportunity to "build a better system," according to King.
"We just had an extraordinarily constructive conversation about ... how to make it easier for everyone to vote," said William Wachtel, who co-founded the Drum Major Institute. "President-elect Trump has committed to working with us."
Trump struggled to connect with black Americans during the campaign, and his public statements, platform proposals and cabinet nominations since have done nothing to allay their concerns. His racially charged attacks against Lewis days before Martin Luther King Jr. Day were met with widespread criticism.
King offered a mild defense of Lewis, whom Trump described in a series of tweets as "all talk," saying that "things get said on both sides." He also said that while he believes Trump's "intent" is to represent all Americans, the public has to consistently "engage with pressure, public pressure" to ensure that he does.