Actor Rob Schneider whitesplains MLK to Rep. John Lewis, who marched with King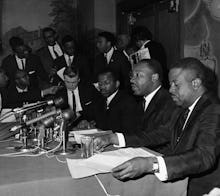 On Monday, Martin Luther King Jr.'s 88th birthday, actor Rob Schneider, best known for such films as "Deuce Bigalow: Male Gigolo" and "The Hot Chick," took to Twitter to tell Rep. John Lewis that King "won Civil Rights" by not "[giving] in to his anger or his hurt."
Schneider's comment comes on the heels of Lewis stating that Trump is not a "legitimate president," citing Russian interference in the election. Earlier this week, Trump attacked Lewis on Twitter for his comments, calling the civil rights leader "all talk." A few hours before Schneider's tone deaf tweet, Lewis attended a Martin Luther King Jr. Day breakfast where he urged people to fight for love and peace, echoing the fundamentals of King's preachings.
The tweet from Schneider, whose 1-star Netflix series "Real Rob" just wrapped its second season, was promptly criticized as whitesplaining. Twitter had a field day calling the actor out.
For the record, King was passionately angry at the injustices of his era, many of which still plague black Americans today. This can be clearly, emphatically heard in his famous "I Have a Dream" speech. But continued efforts to whitewash his more radical ideologies (like this Washington Post misfire arguing King was a "true conservative") have led to a growing habit of non-black figures pushing a narrative of a watered-down King that is not only factually incorrect, but a downright disservice to all that King stood for — and that John Lewis continues to fight for today.
On March 14, 1968, King delivered a speech called "The Other America" in which he said, "a riot is the language of the unheard." Today, the man whose only current claim to relevance is shouting "You can do it!" reminds us all that Twitter is not the place, and Martin Luther King Jr.'s birthday is not the day, for telling civil rights leaders how to be civil rights leaders.