Bruce Springsteen cover band withdraw from Trump Inauguration due to respect for The Boss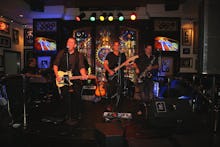 Don't mess with "The Boss" — Bruce Springsteen, that is, not President-elect Donald Trump. The B-Street Band, a Bruce Springsteen cover band, has pulled out from performing at Trump's Inaugural Gala on Thursday.
As previously reported, the B-Street Band was scheduled to play at the Garden State Inaugural Gala on Jan. 19. After recently defending their decision to play, the band has now confirmed that they have withdrawn from their commitment. They released the following statement to Entertainment Weekly:
"With deepest apologies to our fans and the New Jersey Inaugural Ball committee, the B-Street Band is withdrawing from performing at this year's inauguration Gala. Our decision is based SOLELY on the respect and gratitude we have for Bruce and the E Street Band. Bruce's music has been the foundation of our livelihood. The B-Street Band would not exist without the talents of Bruce and our E Street brothers. We are most grateful to these rock legends and look forward to many more years of emulating and performing the Forever Music, of Bruce Springsteen."
Springsteen has made his views on the president-elect clear in the past. Prior to Trump winning the election, the musician called him a "moron" and a "flagrant, toxic narcissist." But that didn't stop the B-Street Band from accepting the invitation to perform. Will Forte, founder of the tribute band, told Rolling Stone last week that the decision to play had nothing to do with politics. 
"We're hired to do things and we don't look at what the repercussions are of playing an event at all," Forte told the outlet, saying that they were looking at the event as a "New Jersey party."
With that said, he also added that the band would "never intentionally disrespect" Springsteen and his music. "If there's any concern, it's that I do upset Bruce and he doesn't get the real story behind this."
Springsteen has not commented on the B-Street Band's decision to play, or their decision to cancel. But the B-Street Band is not the only performer to withdraw their name from the 2017 Inauguration. Jennifer Holliday also withdrew from the presidential celebration over the weekend.