Search for missing Malaysia Airlines flight 370 officially called off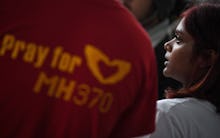 The fate of Malaysia Airlines flight 370 and the passengers aboard will remain a mystery, as the search for the missing plane has been officially called off, the Washington Post reported.
The search for the plane, which disappeared over the Indian Ocean on March 8, 2014, has cost about $150 million so far. 
"The decision to suspend the underwater search has not been taken lightly nor without sadness," the Joint Agency Coordination Center in Australia stated. The governments of Australia, Malaysia and China had been leading the search.
According to the Post, now that the three governments backing the search have decided to stop looking, the search for the plane will remain closed, barring discovery of any new evidence or private funding.
The search for the ill-fated plane captivated news coverage when it vanished from radar with 239 people aboard. Theories on what happened to the plane range from hijackers to military interference to aliens. 
"I think it is their responsibility, not only for the 239 passengers on the plane, or for the next of kin like us, but also they have to give an answer to the whole world ... what really happened to MH370," a son of a woman onboard the plane told CNN.