When does 'The Flash' return in 2017? Everything we know about the second half of season 3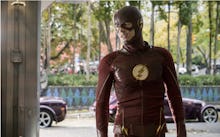 It has been over a month since The Flash's season three fall finale, but fans of the Scarlet Speedster will not have to wait much longer for new episodes. The Flash is set to return on Tuesday, Jan. 24 at 8 p.m. Eastern, for what promises to be an exciting back half of season three. 
Last we saw Barry Allen, he had teamed with Jay Garrick, the Flash from Earth-3, to defeat Alchemy and Savitar, the season's two main villains. As it turns out, Alchemy is Barry's professional rival, Julian (played by Harry Potter's Tom Felton), but the latter is unaware of his own activities as the villain. Once enlightened, Julian agrees to help Team Flash defeat Savitar. 
For a moment, it does appear that Barry has defeated Savitar, but, in doing so, he accidentally travels to the future, where he witnesses the villain, decidedly not defeated, murder Iris West. And while Jay attempts to assure Barry that he only saw one possible future, the latter is understandably shaken. And that leads us to the second half of season three. 
What will happen in the midseason premiere?
When The Flash returns on Jan. 24 with the the 10th episode of season three, Barry will immediately get to work on trying to prevent the devastating future he witnessed. We learned from the episode's synopsis and promo that Barry and Cisco will try and vibe to the future in order to determine how to save Iris' life. 
We also know that Barry will tell Iris of her possible fate. Further, it appears that Barry will eventually be forced to accept Wally West's help, as Wally will finally be suiting up as Kid Flash in the episodes to come.
If you need a refresher on the synopsis and promo, you can check them out below: 
Barry Fights for Iris — Barry (Grant Gustin) is tormented by his vision of the future where Iris (Candice Patton) is murdered by Savitar. When a criminal named Plunder (guest star Stephen Huszar) shows up in Central City, Barry recalls the villain's presence in his vision of the future and fears that if he catches Plunder, it will cement Iris' fate. Confused about Barry's hesitation to stop Plunder, Wally (Keiynan Lonsdale) decides to step in as Kid Flash. Caitlin (Danielle Panabaker) offers Julian (Tom Felton) a job. Millicent Shelton directed the episode written by Grainne Godfree and David Kob.
There will be several returning characters
This should not come as much of a surprise, but there will be quite a few characters from previous seasons of The Flash making a return in 2017. Rick Cosnett, who played Eddie Thawne in the series' first season, took to Twitter on Monday to announce that he will be coming back to the show. 
Fans of The Flash are well aware that Eddie Thawne died at the end of the first season, shooting himself in order to erase Eobard Thawne, his descendant, and the Flash's greatest enemy, from history. Of course, due to some convoluted issues with time travel, Eobard Thawne is still very much alive, currently serving as a main antagonist on Legends of Tomorrow. 
While it is not exactly clear what role Eddie Thawne will play in the back half of season three, it is safe to assume that he will either come from an alternate earth, or will appear in a flashback. In season two, Cosnett guest-starred in an episode where Barry traveled to the past to seek help from Eobard. While there, he runs into Eddie, who had not yet killed himself. 
While this season's "Flashpoint" storyline could be used to resurrect Eddie, it is far more likely that Cosnett will appear in one of the aforementioned scenarios. Eddie Thawne, though, is not the only familiar face set to return in the second part of season three. 
It was confirmed over the summer that Gorilla Grodd will return for a two-part episode. Collider reported that producer Andrew Kreisberg discussed the character's return at the Television Critics' Association press tour, stating, "Yes, we're going to be doing a two-part episode that takes place in Gorilla City." You may recall that Grodd was sent to a parallel earth in season two, which is likely where we will find him when he returns. 
In addition to Eddie Thawne and Gorilla Grodd, Ronnie Raymond (played by Robbie Amell) is set to return as well, Entertainment Weekly reports. Raymond, who died in the season one finale, was Caitlin Snow's late husband, and one-half of the original Firestorm. Raymond did appear in season two, as the character's evil Earth-2 counterpart (who also dies). It is unclear whether Raymond will be returning as a doppelganger from another earth, in a flashback, or if he instead is somehow resurrected. Nonetheless, it will be exhilarating to see Amell come back to the show.
With several exciting characters reappearing, and Savitar posing possibly the greatest threat yet to Barry Allen, fans of The Flash will not want to miss a single second of the action. The Flash returns with all new episodes on Tuesday, Jan. 24 at 8 p.m. Eastern on the CW. 
Mic has ongoing coverage of The Flash. Please follow our main The Flash hub here.