NFL Playoff Odds: Here's what the experts predict for the AFC and NFC championship games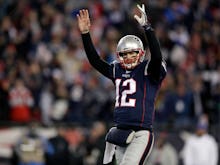 On the road to the Super Bowl, only four teams remain and the odds of the New England Patriots winning another ring are looking solid – they're currently favorites in Vegas to win not just their upcoming playoff match-up, but their fifth Super Bowl ring, as well.
On Sunday, Jan. 22, the Green Bay Packers will face off against the Atlanta Falcons to compete for the NFC Championship (3:05 p.m. Eastern). At 6:40 p.m. Eastern on Sunday, the Pittsburgh Steelers will compete against a New England Patriots team that has dominated this year's playoffs for a chance to win the AFC Championship, and put to bed any skeletons still hanging in the closet from last year's 23-16 loss to the Denver Broncos during AFC playoffs. All four teams are fighting for a spot on the NRG Stadium field in Houston on Super Bowl Sunday.
AFC Championship: Pittsburgh Steelers at New England Patriots
While the #1 Patriots (15-2) managed to ward off the #10 Houston Texans (10-7) last week, a sluggish offense put the onus on the defense to help secure a victory as New England scored two touchdowns late following two interceptions. Still, the New York Times notes the Patriots are favored to win by 6 and Bleacher Report predicts the Patriots will win the AFC Championship 31-24. David Steele of The Sporting News picks the Patriots to win 29-24, while his colleague Vinnie Iyer predicts an upset with the Steelers squeaking by with 27-24.
NFC Championship: Green Bay Packers at Atlanta Falcons
The match-up between the Packers (12-6) and Falcons (12-5) could be a shootout. As Bleacher Report notes, "neither team can stop the other on defense. Both secondaries are hampered by injuries, and both offensive lines have been keeping their quarterbacks clean lately." The last time these two played each other, the Falcons won at the very last minute, 33-32.
The New York Times notes the Falcons are favored to win by 4, but Bleacher Report predicts a tight matchup as the Packers squeak by in another high-scoring affair, defeating the Falcons 38-34. Gil Alcaraz of Fox Sports picks the Falcons to win 38-28.
On Jan. 22, the NFC Championship will begin at 3:05 p.m. Eastern and will be aired on FOX. The AFC Championship will be broadcast on CBS at 6:40 p.m. Eastern.