Brother Vellies designer Aurora James accuses Steve Madden of ripping off her designs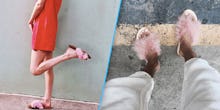 The brand Brother Vellies, which counts Kanye West as one of its fans, is known for its African-inspired and often furry shoes and accessories, which are all handmade with the help of artisans in Africa.
It is also, unfortunately, known for frequently being copied by other brands. In September, Brother Vellies designer Aurora James accused Zara of ripping off one of her designs: a furry sandal with an ankle strap. And now, James is accusing Steve Madden of ripping off two designs: yet another version of the same furry sandal with an ankle strap, and a pink furry slide-on sandal. 
Late last week, Steve Madden posted Instagrams of each of the designs, which, according to James, is what first brought them to her attention. 
For comparison, here is the post with Madden's furry sandal: 
And here is the Brother Vellies shoe: 
Here is the post with Madden's pink furry slide-on: 
And here is the Brother Vellies original: 
"It was just really disturbing," James said in an interview with Mic. "It is weird. I think we all as people have had that experience of things being re-appropriated or stolen from us. When you're in high school and someone takes one of your ideas or you're working and someone takes your idea to your boss. We can all relate to that and it's incredibly uncomfortable." 
What's making Steve Madden's shoes even more offensive is how exactly James' shoes are made. Brother Vellies manufactures all of its shoes through artisans in Africa, offering workers sustainable jobs and livable wages. So Madden copping these designs is directly affecting them. 
"The design process isn't sitting in my studio and being like, 'Oh how can i make this cute shoe?'" James said. "It's like, what resources do I have in Ethiopia and what can I make from them? It's my expression utilizing the sustainable practices that we have. I'm not flattered when opportunities are taken away from people in Ethiopia." 
That's a fact that fans of Brother Vellies have been quick to point out as they defend the brand on Instagram. 
"Come on Steve Madden!" one commenter wrote on the picture of Madden's furry sandals. "This is a blatant copy of Brother Vellies. It would have been wonderful to see you collaborate with Aurora James and support the artisans her company works with. Shame on you." 
And there were plenty of others who spoke out in the comment sections of both Instagram posts as well:
According to James, the massive response from Vellies fans has to do with this culture online now of standing up for what you believe in. 
"I think that it's 2017 and we're in a really different place and as artists, we know we have to show up and stand up for what we believe in," James said. "You're either on the positive side of something or on the negative side of something. For a lot of people like myself and my followers, making a stand for things is an everyday practice of life." 
That being said, James said that Steve Madden is far from the only brand to rip off one of her designs, noting that she frequently receives direct messages on Instagram from fans alerting her to ripoffs. As for why Brother Vellies is copied so constantly, James said she thinks it just has to do with brands being unsure of what people really want. 
James said that she has made a personal appeal to Steve Madden to pull the shoes but hasn't yet received a response. What may make a bigger impact, though, is people continuing to speak out in defense of Brother Vellies, making it a situation Steve Madden cannot ignore. 
"When Steve Madden gets a reaction like this, it comes from a very real emotional place that's not going to be forgotten," James said. "You can sue someone and have whatever results but if you actually are upsetting customers and have them say they're not going to shop somewhere, that's real damage. It'll just be interesting to see how it all shakes out." 
What James is hoping for now is a response from Steve Madden by the end of today. 
Mic has reached out to Steve Madden for comment.