Designer Naeem Khan politely declines offer to dress Melania Trump at inauguration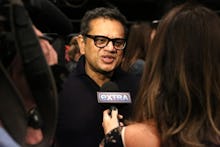 As the days dwindle ahead of Friday's inauguration in Washington, D.C., many questions loom: Which politicians will join Rep. John Lewis, the Georgia Democrat and civil rights icon, in declining to attend? Will Donald Trump be able to wrangle any last-minute talent with a more esteemed resume than that of 3 Doors Down? How will Trump's hair fare in the expected rain?
And for the sartorially minded, another big question looms: What will Melania Trump be wearing?
Though the question remains a mystery, and could likely stay that way up to her appearance on Friday morning, one thing is for certain: Trump will not be wearing Michelle Obama favorite, Indian-born American designer Naeem Khan.
"I don't think it's right," Khan said in an interview with the Associated Press. Though Melania Trump "might be a great person for all we know," Khan said that "the values of this administration do not comply with the values of who I feel we are as a nation."
Though Khan joins a throng of designers (including Tom Ford, Marc Jacobs and Phillip Lim) who have publicly stated they will not dress Trump during her husband's time in office, he is the first known designer to have been approached for the gig. (According to Khan, he was approached by "a common social friend" and "declined to pursue the opportunity.")
This is not Khan's first time expressing skepticism toward the incoming administration. "I'm not a politician, I'm a fashion designer — but I do have a point of view and I do have loyalty," Khan previously told Elle. "I really care for the values of our country and I feel like there's something missing in the new administration. I am very skeptical and I'm afraid of where it's going. But, I think we have to see."
If Melania Trump's campaign wardrobe is any indicator, her relationship with the fashion world will be one of a loyal shopper versus her predecessor, Michelle Obama, who made spotlighting lesser-known designers and designers of color part of her legacy as one of the most style conscious first ladies in history.