6 athletes on how Muhammad Ali inspired them to stand up for justice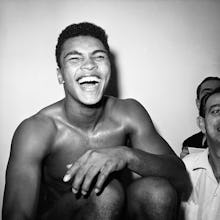 Tuesday marks Muhammad Ali's first birthday since his death on June 3, 2016. Ali would've been 75 years old. 
The man the world knows as "The Greatest" earned his title not only for fights inside the ring, but also for the fights he took on outside of it. In 1967, during the prime of his boxing career, Ali dodged the draft for the Vietnam War. 
"I'm not going 10,000 miles from home to help murder and burn another poor nation simply to continue the domination of white slave masters of the darker people the world over," Ali said in a press conference over his Vietnam War draft protest.
Ali, a black Muslim speaking at the height of the civil rights era, paid a hefty price for standing up for his beliefs and religious convictions. He was stripped of his boxing license and his world championship titles. Ali, alongside Martin Luther King Jr. and Malcolm X, was also under extreme scrutiny by the FBI.
It was Ali's act of civil disobedience that inspired King, whose advisers were hesitant to stand against the Johnson administration, to join the anti-war movement in the late 1960s. As a result, Ali further galvanized the civil rights movement. 
Now, several athletes have followed his lead. San Francisco 49ers quarterback Colin Kaepernick kneels during the national anthem to stand against police brutality and the oppression of the black American community. Cleveland Cavaliers' LeBron James raised social consciousness when he wore an "I can't breathe" T-shirt in reference to the unlawful death of Eric Garner during a pre-game warm-up in 2014. Kareem Abdul-Jabbar, years after retiring as a NBA superstar, continues to live on Ali's legacy through his philanthropic and activism work for social justice.
Here are six athletes, in their own words, honoring "The Greatest."
Colin Kaepernick 
Kaepernick, during a press conference in October 2016, said he tried to pay homage to Ali's beliefs.
Ali "fought a very similar fight and was trying to do what's right for the people," Kaepernick said. "And for me to be able to have someone like that come before me is huge."
He is someone who helped pave the way for this to happen. What he did and what he stood for, people remember him more for that than I do as a boxer. 
LeBron James
"When I was a kid, I was amazed by what Ali did in the ring," James told ESPN in an exclusive interview in June. "As I got older and started to read about him and watch things about him, I started to realize what he did in the ring was secondary to what he meant outside of the ring — just his influence, what he stood for."
James, who donated $2.5 million to the National Museum of African-American History and Culture for a Muhammad Ali exhibit, expressed the same sentiment when he spoke to reporters in Oakland the day afte Ali' deat:
Obviously, we knew how great of a boxer he was, but I think that was only 20% of what made him as great as he was. What he stood for, I mean, it's a guy who basically had to give up a belt and relish everything that he had done because of what he believed in and ended up in jail because of his beliefs. It's a guy who stood up for so many different things throughout the times where it was so difficult for African-Americans to even walk in the streets.
James is also an executive producer for an upcoming untitled HBO documentary on Muhammad Ali.
Kareem Abdul-Jabbar 
In a moving tribute to Ali, Jabbar spoke of his companionship with and admiration of the boxer.
Ali "didn't fight for three years during his physical prime, when he could have earned millions of dollars, because he stood up for a principle," Jabbar wrote for Time on June 6. "While I admired the athlete of action, it was the man of principle who was truly my role model."
Jabbar then wrote of Ali as a "big brother" to the entire African-American community, after he sacrified his career to stand against the Vietnam War.
"I realized he wasn't just my big brother, but a big brother to all African-Americans," Jabbar added. "He willingly stood up for us whenever and wherever bigotry or injustice arose, without regard for the personal cost. He was like an American version of the comic-book hero Black Panther."
George Foreman
George Foreman was one of Ali's biggest and most notable opponents, taking him on in the "Rumble in the Jungle" — the 1974 world championship fight in Kinshasa, Zaire, present day Congo. 
After news broke of Ali's death, Foreman took to Twitter to release a touching statement of his fighting-foe-turned-best-friend. Foreman said Ali's death was "the greatest piece" of himself slipping away.
Harrison Barnes
Harrison Barnes, small forward for the Dallas Mavericks, is beginning to make a name for himself outside of the court in regards to speaking against police violence. After Ali's death, Barnes tweeted a tribute to Ali and how athletes should exemplify the boxer's social consciousness.
"The greatest may be gone from public life but his spirit should live forever in our social consciousness," Barnes tweeted. "RIP Muhammad Ali."
Shaquille O'Neal
Shaquille O'Neal gave an emotional story of how Ali motivated him as a young child. During a June 2016 interview with NBA TV, Shaq said his father would often show him clips of Ali as a form of inspiration and motivation.
Ali "was a great man," Shaq said. "For me and my household, when my father couldn't get through to me as a medium-level juvenile delinquent, he would always show me Muhammad Ali clips. He would always show me his quotes. He said, 'Look, Muhammad Ali comes from the same place you come. I know you have a weird name … Muhammad Ali has a similar type name. If he can do it, you can do it.'"
"He's definitely my hero," Shaq added. "My kids' hero. My family's hero. He will definitely be missed but never forgotten."