How to Get Coins in 'Pokémon Go': Gyms are the best free way to get money in the game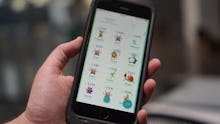 You need some incubators but you don't want to spend real-world money on coins in the Pokémon Go shop. What do you do? You'll need some coins. 
The easiest way to get money in Pokémon Go is to spend your real-world cash, but, don't worry, there are other options too. Microtransactions aren't the only way to earn coins in Pokémon Go, but you're going to have to put some work in to take advantage of the other method.
How to Get Coins in Pokémon Go: Get ready to hit the gym
Taking over gyms is fun for its own sake but you also get a reward for defending gyms. The more gyms you're defending, the larger the reward.
To check on your coin collection activity, open up the Pokémon Go shop in the app. If you have any Pokémon that are currently defending gyms, the shield icon in the upper right-hand corner of the shop screen will have a number greater than zero. This is the number of Pokémon you have defending gyms.
You'll earn 10 coins for each Pokémon defending a gym. You may cash in this bonus by tapping on the shield icon and collecting you rewards only once every 24 hours. To take the greatest advantage of this source of coins, come up with a list of nearby gyms you can take over, even if you can't hold them for long. Once you've placed all the Pokémon in gyms that you can, cash in the reward!
If you're still having trouble, check out our rundown of the best gym defenders and attackers in Pokémon Go.
More Pokémon Go guides, tips, tricks and updates
Check out Mic's Pokémon Go tips and tricks. Here are guides on how to get stardust, how to determine how long it will take you to reach Level 40, the kind of Pokemon you get from 10km eggs, how to create new PokéStops, how to maximize your chances of catching Pokémon and how PokéStops distribute Pokémon eggs. Also check out how to catch Gen 2 baby Pokémon, our analysis of post-balance update Chansey and Rhydon and everything you need to know about finding the long-awaited Pokémon Ditto.