Putin says Trump didn't pay for golden shower because Trump has slept with beautiful women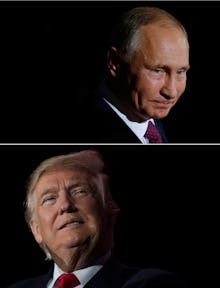 Russian President Vladimir Putin denied the allegations that his country has videotape of President-elect Donald Trump paying prostitutes to urinate on a Moscow hotel room bed, saying Tuesday that the allegations are "worse than prostitutes," according to the Associated Press.
Putin — who U.S. intelligence officers say personally directed Russian hackers to disrupt the presidential election with coordinated cyberattacks — also threw cold water on the allegations by questioning why Trump would pay for prostitutes.
"Trump has been with the most beautiful women in the world, so why would he need prostitutes in Moscow," Putin said on Russian state television, according to Amie Ferris-Rotman, a Moscow correspondent for the Wall Street Journal.
Putin's defense of Trump went a step further, accusing President Barack Obama's administration of trying to undermine Trump.
Trump, for his part, has also denied the allegations detailed in the controversial dossier, which was compiled by a former British intelligence officer and first made public last week by BuzzFeed.
However Trump has come under fire for shielding Putin and Russia from criticism in the wake of intelligence reports that Russia hacked into the emails of Democratic groups and officials to try and help elect Trump.
It wasn't until last week when Trump officially said Russia was behind the hacking.