'Girls' Final Season: Premiere date, cast secrets, promo videos and more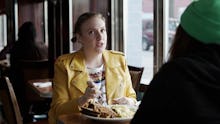 HBO's Girls will end its run after its sixth season, which begins on Sunday, Feb. 12 at 10 p.m. Eastern. 
Based on the teasers released so far, the show's final season looks to center around Hannah's big article. We see her interview with an editor — played by Chelsea Peretti — and she gushes about her passion for writing and the kind of stories she wants to tell: "I want to make people laugh about the things in life that are painful," she says. 
The other girls — Marnie, Shoshanna and Jessa — all seem to be finding themselves. Marnie is continuing to justify her relationship with Ray, Shoshanna finds friendship outside of their group and Jessa is dealing with the fallout from Adam. 
It looks like the group's problematic friendships are being examined in the final season as well. In a promo for season six, the girls have an impromptu friend meeting in a bathroom to discuss their collective relationship. In a different scene, we see Jessa confront Hannah about their friendship and Hannah says, "I don't think we ever acted like friends."
In an exit interview with Glamour magazine, all four actresses sat down with the show's executive producer, Jenni Konner, to discuss their time on the show. For creator-star Lena Dunham, who plays Hannah, the most satisfying aspect of the series was collaborating with her cast and crew. "[It] helped me learn the satisfying thing of opening up and understanding that other people's concepts of their characters, their ideas, are just as valuable as mine," Dunham said. 
And the least satisfying? "Sometimes I would get very lonely, because I wanted to be a part of the group... Even though I was surrounded by love, there were times where I felt very 'by myself' in the process," Dunham said. She also reveals in the interview that just a few days before filming began for season two, Jemima Kirke, who plays Jessa, almost quit, which Kirke confirms: "Yeah. My sense of who I was and what I wanted was really thin. I really wasn't sure what the f-ck I was doing."
For Dunham, the show was about creating a world for the "unlikeable woman." Dunham doesn't credit herself entirely for that phenomenon, but she notes that Girls did help shows like Inside Amy Schumer and Broad City find audiences more easily. Abbi Jacobson of Broad City agrees, telling Vogue, "Lena was one of the first in a wave of creators writing and starring in their own material."
As the cast members will embark on their own journeys after the show's final season, the girls of Girls appear to be maturing too, according to Konner. "I can tell you that the girls, in a very Girls way, do finally start to grow up. Our greatest hope is that the audience finds the end as satisfying as we do. But then if the audience was entirely pleased, it wouldn't be Girls, would it?" she told Vogue last year. 
The final season of Girls premieres on Sunday, Feb. 12 at 10 p.m. Eastern.