TV Land's 'Teachers' is one of the funniest TV shows you're not watching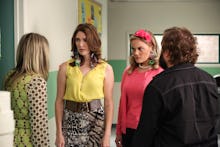 The stereotype of the misbehaving school teacher — drinking, dressing provocatively or flirting with students — has been perpetually overplayed in entertainment, whether in jest ("Teacher Snow Day") or in earnest (A Teacher's Obsession). In Teachers, the TV Land series, which begins its second season Jan. 17 at 10 p.m. Eastern, that trope is deconstructed and reformed into something refreshingly new. 
Created by the Chicago comedy group the Katydids — Caitlin Barlow, Katy Colloton, Cate Freedman, Kate Lambert, Katie O'Brien, Kathryn Renée Thomas — the comedy centers around a group of schoolteachers and their messy, complicated and decidedly unwholesome lives outside of school. Along with challenges like trying to shut down a misogynistic photographer who visits campus for picture day, inspection from the superintendent and classroom bullies, their personal lives often overlap with their professional. 
It's a web series success story 
The Katydids, whose name is derived from all of their names being some kind of variation of Kate, first performed together eight years ago. Originally a web series, the idea for Teachers was born after a friend noted that they all resembled midwestern school teachers. 
Mad Men and Community alumna Alison Brie met with the Katydids and signed on as an executive producer for the first season, which featured 10 episodes. Following positive reviews, the show was renewed for a 20-episode second season. 
It's written by women 
A notable aspect of Teachers is that the episode's plots don't revolve around romantic interests. Instead, the ensemble-driven show, whose creators have backgrounds in improv and sketch comedy, generally takes on raunchier subjects, like hooking up with drug dealers and anal bleaching. 
"We wanted to show that women have all kinds of things going on in their lives outside of their romantic relationships, we just couldn't fit in male romantic leads this season," the Katydids said, according to Bustle. "It seems like a lot of content targeted toward women leans toward romance and Teachers isn't about the romance. TV has been there, done that."
"I think our show — we're just going to claim it — is the only show to ever be on television that is predominantly female," O'Brien told Chicago Reader. "Our writers' room was almost exclusively female except for our two show runners, Ian [Roberts] and Jay [Martel]."
Guest stars 
The first season of Teachers featured cameos from Rob Riggle, Alison Brie, Ian Roberts, Rob Corddry, Kerri Kenney, Lacey Chabert, Jesse Bradford and Sam Richardson. 
If the first season of Teachers is any indication, season two will provide quite an education.