When can fans expect to see Harley Quinn on 'Gotham'? Very soon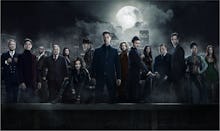 Fox's Batman prequel series, Gotham, has had a tough task ever since it premiered in 2014: appeasing fans of arguably the most popular comic book character in history. Critic and fan reception has been generally positive, but not overwhelmingly so. And this is understandable as Gotham must present compelling story arcs without the Dark Knight playing a role (Bruce Wayne is only a teenager here). The result has been a heavy emphasis on Batman's popular rogues' gallery. 
While Gotham does have a tremendous wealth of villains at its disposal, the creative team is somewhat limited due to the series' prequel status. If they bring in fan-favorite antagonists too early, they risk backlash over the mishandling of established backstories. On the other hand, if they leave out classic Batman villains, the series becomes more like a run-of-the-mill police procedural set in a popular comic book city. 
Gotham has settled for less developed and younger versions of many of the Caped Crusader's greatest antagonists. But seeing early incarnations of villains like Riddler, Penguin, Mad Hatter and Hugo Strange has generally been the best part of the series. Currently, though, those villains' popularity pales in comparison to the notoriety of the Joker and his love interest, Harley Quinn, who was recently portrayed by Margot Robbie in Suicide Squad. So it is not too surprising that Gotham would try and bring Harley into the fold sooner rather than later. 
TV Line reported over the summer that Gotham executive producer John Stephens explained at the Television Critics' Association press tour that we would eventually see a "forerunner" version of Harley Quinn, though likely not this season. However, now it appears that Harley may be coming to Gotham this year after all. Stephens has told TV Guide that "we might see [Harley] in Episode 22." TV Guide is reporting that Gotham's Harley could be the "launching point" for season four's primary arc, which Stephens said is "crazy."
It will be particularly interesting to find out if we'll ever see Gotham's Harley interact with Jerome (played by Shameless' Cameron Monaghan), who has essentially become the show's version of the Joker. One major issue with Suicide Squad was that Harley Quinn's relationship with Joker was not appropriately explored — especially the abusive nature it had in the comics. Perhaps this is one area where Gotham can rise above DC's film offerings. 
It should be noted that we have no idea who will be playing Harley or whether she has appeared in some form on the show already. One popular theory is that Jim Gordon's ex, Barbara Kean, would become Harley. The theory is not so crazy given Barbara's erratic behavior. Of course, there was also speculation that she could become a female version of the Joker. 
For what it's worth, Erin Richards, who plays Barbara, recently downplayed the possibility of her character becoming Harley Quinn in a discussion with Cinema Blend, noting that Harley's motivations do not align with Kean's.
Whoever is set to become Harley Quinn, it appears we will not have to wait much longer to see the Queen of Gotham on Fox. 
Gotham airs Mondays at 8 p.m. Eastern on Fox.