Trump Inauguration Day Protests: Here are the major groups marching on DC this weekend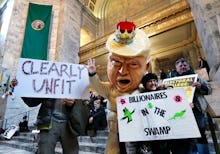 Tens of thousands of protesters are expected in Washington, D.C., over inauguration weekend. Here are some of the major groups that will be standing against President-elect Donald Trump:
ANSWER Coalition
The Act Now to Stop War and End Racism Coaltion will hold an #InaugurateTheResistance demonstration on Friday morning at the Navy Memorial on Pennsylvania Avenue.
Occupy Inauguration
Occupy Inauguration had planned to protest whether Trump or Clinton won, in order to "fight to advance the political revolution" of the 99%.
Women's March on Washington
In response to Donald Trump's misogyny, people from across the country will march in Washington the day after the inauguration to send the message "that women's rights are human rights." The rally will be held at 10 a.m. Saturday near the Capitol building, and the march will begin at 1:15 p.m. Nearly 400 "sister marches" will be held in cities around the world. The Women's March on Washington is expected to be the largest of the inauguration protests.
#Trump420
Legal weed advocates – led by the DCMJ – will hold a #Trump420 demonstration. They'll hand out 4,200 free joints, and plan to light up four minutes and 20 seconds into Trump's inaugural address.
#DisruptJ20
Starting at 9 a.m. on Friday in McPherson Square, #DisruptJ20 – organized by the DC Welcoming Committee – will work to "shut down the inauguration ceremonies and any related celebrations – the inaugural parade, the inaugural balls, you name it" and "paralyze the city itself."
"We must delegitimize Trump and all he represents," according to the group's call to action. "It's time to defend ourselves, our loved ones and the world that sustains us as if our lives depend on it — because they do."