Green Day's "Troubled Times" video takes aim at Donald Trump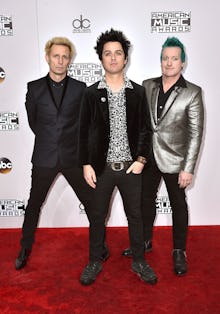 Nothing says "Happy Martin Luther King Jr. Day" like a new Green Day music video bashing Donald Trump. On Jan. 16, the band released the music video for their song, "Troubled Times" off their most recent album, Revolution Radio. It's brimming with anti-Trump imagery and messages of resistance.
"Today we celebrate love and compassion more than ever," said Billie Joe Armstrong in a statement. The video makes it clear the band doesn't see our soon-to-be leader of the free world sharing those values.
"Troubled Times" depicts various protests related to civil rights and women's suffrage, featuring a Trump-like figure in a Make America Great Again baseball cap spewing hateful messages over to a rapt crowd. If you watch closely, you'll even notice a close-up shot with KKK members rallying inside of the figure's mouth.
The video follows Green Day's explosive American Music Awards performance in which the band snuck a "No Trump, no KKK, no fascist USA" chant into the lyrics of "Bang Bang." "Troubled Times," along with much of the rest of the band's latest album, offers a bit more nuance in the way it comes for Trump and the "movement" he's empowered.
In an October 2016 review of Green Day's Revolution Radio, Rolling Stone writer Jon Dolan said the album "reflects decades of accrued emotional and musical wisdom." The lyrics to "Troubled Times" offer a glimpse at the band's experience, in part: "What part of history we've learned/ When it's repeated?/ Some things we'll never overcome/ If we don't seek it/ The world stops turning/ Paradise burning/ So don't think twice/ We live in troubled times."
Watch the full video below.