'Sherlock' season 5 theories, rumors and everything we know so far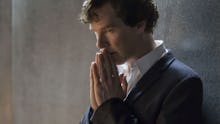 BBC's Sherlock ended its second and third seasons with agonizing cliffhangers, which is to say, there was never any doubt that the series would return, despite how long it takes to produce. But Sherlock's season four finale, "The Final Problem," certainly felt conclusive. 
Not only did Sherlock face his most personal adversary to date — his long-lost sister, Eurus — but the final moments of the finale lingered on Mary, in a post-mortem video message, praising her "Baker Street boys" for their crime-solving prowess. Then, just before the credits rolled, we were treated to a freeze-frame of Sherlock and John Watson running out of a building. Color us impressed with the cheesiness, which should all but confirm that Benedict Cumberbatch's version of the famous detective has run its natural course. 
Right? 
"We don't want to let go of it, because it is a wonderful thing," series co-creator Steven Moffat said earlier this month. "But we don't want to keep it going past the time that it should stop." Hmm, so that's specific. 
That's been Moffat and co-creator Mark Gatiss' response to Sherlock season five questions in a nutshell. It could happen, yes, but nothing's set in stone and they seem satisfied with the season four finale, if it ends up being the final episode. 
But where do other members of the show stand? While Cumberbatch has said he would like to revisit the character again in his career, his phrasing seems to intimate that he's, technically, done with Sherlock. 
"It might be the end of an era," the actor told British GQ in September. "It feels like the end of an era, to be honest. ... I'd love to revisit it, I'd love to keep revisiting it, I stand by that, but in the immediate future we all have things that we want to crack on with and we've made something very complete as it is, so I think we'll just wait and see. The idea of never playing him again is really galling." 
Martin Freeman, aka John Watson, was similarly cryptic about season five when asked by Entertainment Weekly about it in December. "I think things ending is not a thing to be afraid of," he said. "Can you imagine The Beatles now? Jesus. Certain things should end. I think everything is supposed to be finite. Who knows?" 
The good news — for fans who are worried that we may have seen the last of Sherlock — is that if everyone wanted to return for season five, there's no shortage of source material to pull from. Many of the cases from Sir Arthur Conan Doyle's original novels were never done on the show, and Sherlock has left one potentially entertaining thread for the future: Irene Adler, Sherlock's quasi-girlfriend and one of the best parts of the series in her brief run, is still alive (and they're texting!). 
Elsewhere, Mycroft has a budding love interest in Lady Smallwood; Molly Hooper deserves better treatment, and a better character arc, from the show; John is raising a baby on his own; and Sherlock and John are always going to be hooked on the natural high of solving intricate crimes. That's not much, granted, but it's enough to ostensibly push Sherlock into future seasons. 
If we're to make an educated guess, however, all signs point to Sherlock coming to a close in season four. It sucks, yes, but if the series never returns, at least it went out on its own terms — with a series finale that was ultimately satisfying.