EU leaders say Theresa May's Brexit proposal isn't going to work out for the UK — or the world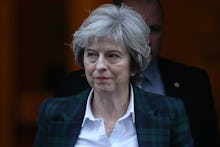 British Prime Minister Theresa May outlined her Brexit proposal Tuesday for how the United Kingdom will leave the European Union, adding she would let Parliament vote on whether to approve the plan.
In it, May suggested the U.K. leave the EU single market — which allows the tariff-free movement of goods, people and money — but proposed keeping some single market benefits. 
For example, May wants the U.K. to be able to avoid tariffs when trading with the EU, but simultaneously wants to tighten borders, making it more difficult for Europeans — and non-Brits in general — to work in the U.K. 
Allowing foreigners to work and study "must be managed properly so that our immigration system serves the national interest," May said in her speech, according to a transcript published by the Independent. "So we will get control of the number of people coming to Britain from the EU."
Lead Brexit negotiator for the EU, Guy Verhofstadt, clapped back at May, arguing that Britain could not "cherry pick" policies, like maintaining tariff-free trade while still closing borders for immigration.
German Chancellor Angela Merkel echoed Verhofstadt's sentiment.
"I'm asking you as representatives of the business world to act together with us, because should it become apparent that you can get full access to the single market even if you can choose certain things then we risk that every country cherry picks," Merkel said in response to May's speech. "That's why politics and business need to act together."
Nearly 7% — or roughly 2 million people — of the U.K. workforce is comprised of EU workers, reports the Financial Times.
In the lead up to the Brexit referendum, Brexiteers argued immigration was out of control and hurting the British economy. But many experts disagree with this claim — and say stricter immigration laws could actually hurt the economy.
"There is no evidence that EU immigration does much harm to the jobs or pay of British people," John van Reenen, then-director of the Center for Economic Performance at the London School of Economics, told the Financial Times in May. "By contrast, Brexit will inflict major damage on the real wages of ordinary workers by damaging trade, investment and productivity."
Indeed, the EU has repeatedly made clear it will be painfully tough on the U.K. — so as to discourage other member countries from leaving too. 
What's worrisome is that trade conflicts between European countries can have ripple effects across the world.
For example, the U.K., Germany and France together account for about 10% of all U.S. trade. These nations are also among the United States' top 10 trade partners, buying more than $100 billion worth of American-made products annually.
So if new tariffs hinder international trade or Brexit damages the U.K. or European economy? Then the U.S. could feel the pinch if fewer Europeans can afford to buy U.S. goods made by U.S. workers.
Of course, Britons might bear the worst burden if the EU decides to punish Brexiters.
Approximately 44% of U.K. exports, which in 2015 amounted to more than half a billion dollars, go to EU countries.
That means punitive tariffs on Britain could seriously devastate U.K. businesses — and the people who invest in and work for them.
Sign up for The Payoff — your weekly crash course on how to live your best financial life.