'Injustice 2' Release Date, Trailer and Story: Iconic superheroes clash in epic new video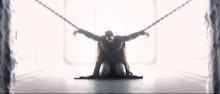 2016's Captain America: Civil War took us to an unthinkable world where longtime Marvel superhero friends fight each other for about 90 minutes before becoming friends again. Those who prefer the demigods of D.C. Comics will get a similar scenario later this year in Injustice 2, a sequel to the underrated 2013 fighting game from the developers of Mortal Kombat.
NetherRealm Studios just released a new story trailer for Injustice 2, which every comic book fan should see right away.
Injustice 2 trailer: Friends become enemies
The game, naturally, takes place in the aftermath of Injustice: Gods Among Us, which is set in an alternate timeline where Superman is an evil tyrant who uses his powers to rule the world. Batman's resistance ultimately wins the day, and as you can see in the trailer, Superman is none too pleased about his imprisonment.
Batman shockingly fights longtime sidekick Robin, while new character Supergirl takes on Wonder Woman. Other new characters for this game include Harley Quinn and everyone's favorite primate, Gorilla Grodd. Additionally, D.C. supervillain Darkseid is available as a pre-order bonus.
Injustice 2 release date
Injustice 2 launches on May 16 for Xbox One and PlayStation 4. NetherRealm Studios has also confirmed that a mobile version is coming too, though we still don't have know that release date or which platforms it will support.
More gaming news
Mic has all the latest gaming news, including information on the next Pokémon Go event, hands-on impressions of the Nintendo Switch and what you get with the special edition of The Legend of Zelda: Breath of the Wild.