Forget those legendary riffs, Christina Aguilera is now hawking Oreos in Indonesia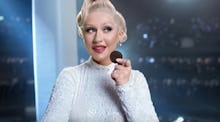 Ever wondered what it would be like to watch Christina Aguilera bike ride across a tightrope, then defy gravity in the name of Oreo dunking? Well, you are in luck!
No, this isn't a parody of Aguilera's Hurt music video, it's real life. In a new Indonesian ad for Oreo (first rumored back in October), the five-time Grammy winner is seen voicelessly doing just that. (Ringling Brothers who?)
Correct, Oreo hired one the greatest singers of all time and did not so much as let her speak.
A Christina Aguilera stan account, @xtinaNOW, cast some shade on their beloved with an edited version of the clip, featuring her long-rumored eighth studio album (rumored to be titled Blonde) in place of the cookie and a recycling bin in place of the milk.
It's a well aimed critique. This is the longest period yet between Aguilera albums (her last album, Lotus, was released in 2012). Aguilera had previously promised the album would be released "by the end of [2016]." That didn't come to pass. Nor, as 2017 pushes on, has more information been gleaned.
For fans craving Aguilera's soulful four-octave range, fear not. 
On Jan. 12, during ABC's Taking The Stage: African American Music and Stories That Changed America special, Aguilera took the stage to belt out a riff-laden cover of Ethel Waters' classic, "Stormy Weather."
Check out that performance below.