'Pokémon Go' Update Notes: 0.53.1/1.23.1 delivers first changes to the game in 2017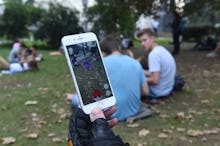 Niantic can't be expected to provide interesting updates for Pokémon Go all the time! Update 0.53.1 for Android devices and 1.23.1 for iOS devices makes only minor changes to the game. You can check out the full patch notes here.
Pokémon Go update 0.53.1/1.23.1 patch notes
The latest update to Pokémon Go includes changes to the Apple Watch version of the game. Once it hits the smartwatch app will show players how many eggs they've gathered from PokéStops.
The new update should also improve the way Pokémon Go tracks your GPS position. Finally, Niantic says it's included some "minor text fixes" for a better overall experience.
That's everything included in the latest Pokémon Go update. We're still waiting for the first big changes of 2017 to hit the game.
More Pokémon Go guides, tips, tricks and updates
Check out Mic's Pokémon Go tips and tricks. Here are guides on how to catch Gen 2 baby Pokémon, the 98 Gen 2 Pokémon that have yet to be added to the game, our analysis of post-update Chansey and Rhydon, everything you need to know about finding the long-awaited Pokémon Ditto, how to create new PokéStops, how to maximize your chances of catching Pokémon and how PokéStops distribute Pokémon eggs.