Mike Pence family: Meet the members of the VP-elect's family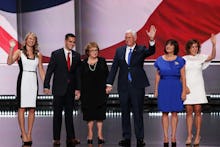 Mike Pence, the anti-gay vice president-elect who once tried to change the definition of rape to make abortion less accessible — and who not too long ago wrote that "smoking doesn't kill" — has a wife and three children. Together, they're about to become the United States' second family. 
Here's what to know about them:
Mike Pence's wife, Karen
Mike Pence has a wife, and her name is Karen. 
She was playing guitar at a Catholic mass in Indianapolis when she met the future vice president. They married in 1985. She has bachelor's and master's degrees from Butler University in elementary education, and she has taught at a number of Indianapolis schools. She is also an artist, specializing in painting portraits of houses. 
Mike Pence has referred to her as the "best part" of his life.
Mike Pence's kids: Michael, Charlotte and Audrey
Mike Pence has three children, and their names are Michael, Charlotte and Audrey. 
According to Pence, politics has "always been a family affair for us." While he and his wife were shaking hands in the Republican tent at county fairs, his kids "would be standing out in front of the tent, handing out flyers and shaking hands."
Michael, the eldest, is a Marine Corps officer. As of July, he was in Florida for flight training. He said despite his father's public roles, he and his siblings had a "pretty normal" childhood.
Charlotte, the oldest daughter, is a recent graduate of DePaul University in Chicago. As a student, she was involved with university ministry, a student group that addresses violence in Chicago, and had a column in the school's newspaper. In 2014, she wrote an essay in Thought Catalog about her belief in God. An aspiring filmmaker, Charlotte described her political views as "moderate," though she said she is not very interested in going into politics. She describes her father as her "hero," saying that he "encourages the best in everybody" and "really wants to do the right thing all the time."
Audrey, the youngest, attends Northeastern University in Boston and studies journalism. Though she supported her ultra-conservative father during the campaign, she has stated that she is a socially liberal independent. As a student journalist, she traveled to Turkey as part of the Fuller Project for International Reporting and scored a byline in CNN – the media organization the man her father shared the presidential ticket with recently called "fake news." 
She has said her father respects her differing political views: "He tells me so many times, 'I am proud of you for having your own opinions and looking into things.'" According to her LinkedIn page, she is currently a political and economic intern at the U.S. Department of State and will graduate from Northeastern this year.
Pence will become vice president of the United States of America on Jan. 20.