After a homophobic tweet, this beauty vlogger's dad came to his defense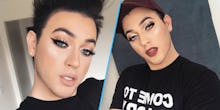 Beauty vlogger Manny Gutierrez, who goes by Manny Mua online, has had a stellar past few weeks. He became Maybelline's first-ever male spokesperson, and his campaign for Maybelline mascara made its grand debut. 
However, along with the mostly positive attention, Gutierrez has attracted some haters who have managed to find offense in his repping a makeup brand. 
A blogger named Matt Walsh sent Gutierrez a homophobic tweet around the time his Maybelline campaign was making headlines. The tweet read: "Dads, this is why you need to be there to raise your sons." Unbeknowst to Walsh, though, Gutierrez's dad was having none of it. 
In response to Walsh's tweet, Gutierrez fired back: "My dad actually works for me and is so proud of me. Sorry 'bout it." 
The following day, Gutierrez tweeted this to his more than 543,000 Twitter followers: "Being a man isn't about how 'tough' or 'masculine' you are ... it's about taking care of the ones you love." 
Gutierrez's father then weighed in, sending Gutierrez a text message addressed to Walsh for his son to post on Twitter.
"Let me first begin by telling you that I've always been there for my son and will always be there for him. Not only am I proud of what he has accomplished but I'm more proud of the person he has become," Gutierrez's dad wrote. 
"I know the words you speak are from lack of knowing anybody from the LGBT community," Gutierrez's dad continued. "If you did, you would soon realize they are some of the most real and kind-hearted individuals that walk this planet of ours. Going forward, I would choose your actions and words wisely. Just like you would do anything for your family, I would do for mine." 
It's not just Gutierrez's dad who came to his defense — many of Gutierrez's Twitter followers did the same.
At the time of writing, Gutierrez's father's message has been retweeted more than 12,000 times and has garnered more than 58,000 likes. Walsh's post, meanwhile, has fewer than 2,000 retweets. 
Clearly, the internet has taken sides.