Congressional Budget Office says repealing ACA will double premiums and leave 32 million uninsured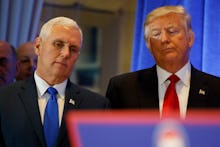 Repealing parts of the Affordable Care Act — which Republicans have voted and vowed to do — would leave as many as 32 million people uninsured and double premiums by 2026, according to a Congressional Budget Office report published Tuesday. 
These numbers would result from a GOP rollback of insurance subsidies and mandate penalties: Republicans in the Senate and House of Representatives last week voted to repeal the ACA.
Within the first year alone, the number of uninsured people would expand by 18 million — and the cost of premiums for individual policies in the nongroup marketplace could increase by as much as 25%, the CBO said. After that, premiums could grow to double current prices by 2026.
While the GOP has yet to propose any official replacement, Trump insisted Saturday that he has a plan that would provide "insurance for everybody," he told the Washington Post. Beyond that, Trump did not provide any specifics. 
Political opponents have accused Republicans of recklessness and warned of damaging consequences of a repeal, including threatening the lives of uninsured Americans.
Vermont Sen. Bernie Sanders is one such critic: "I will yield to my friends if they will tell me now what their replacement is," he said of the GOP. "How many of those 30 million people are going die, what's your plan to cover them?"
Premiums — whether the ACA made them too expensive, and whether they will actually get more costly after a repeal — have been a big part of the debate over the fate of Obamacare.
Now the the CBO report suggests the doubling of premium costs following a repeal could hit certain Americans hard.
"The average net premium — that is, taking into account tax credits — in 2016 among those who qualified for tax credits was $106 per month," the Department of Health and Human Services reported in April.
Doubling premiums would therefore raise them to more than $200 per month on average for Americans with low enough income to qualify for credits.
But that's not all Americans, and there is tremendous variation in costs, depending on where you live and what type of insurance you have.
For example, premiums are about $500 in Burlington, Vermont: That means, according to the CBO's estimates, repealing parts of the ACA could make some Vermont premiums jump up to $1,000 monthly in the next decade.
Republicans such as Sen. Rand Paul (R-Ky.) have alleged the motivation to repeal ACA is to protect individuals. 
"I think this is where Obamacare failed," Paul told CNN on Sunday. "They wanted to insure people. Their motives were good. Their heart was in the right place. But they put so many mandates in it that they made it too expensive."
But early evidence suggests repealing parts of the ACA could hurt individuals while helping those large health care companies — like UnitedHealth Group — that argue that the ACA insurance marketplace hurts their profits.
UnitedHealth has removed itself from the marketplace already, and profits for the company spiked in the last quarter of 2016, according to the company's financial report published Tuesday. 
UnitedHealth anticipates rising profits in 2017.
Sign up for The Payoff — your weekly crash course on how to live your best financial life.