Chelsea Manning to be freed in four months after Obama commutes 35-year sentence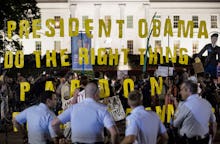 On Tuesday, President Barack Obama commuted the sentence for Chelsea Manning, the transgender woman who had been serving a 35-year sentence in a men's prison for leaking classified documents to WikiLeaks. She's set to be released on May 17 of this year, according to the New York Times. 
Manning's legal counsel formally petitioned Obama to commute Manning's sentence — the harshest sentence of any whistleblower in American history, they said —  in November, sending the president a request that he "carefully consider" granting her clemency.
Edward Snowden brought his own plea to Obama on Twitter earlier this month, writing, "Mr. President, if you grant only one act of clemency as you exit the White House, please: Free Chelsea Manning. You alone can save her life." 
Meanwhile, WikiLeaks founder Julian Assange, who currently lives in an Ecuadorean embassy in London on asylum, said he would extradite himself to the United States if Obama commuted Manning's sentence. 
In her own words, Manning told Obama in a letter, "The sole relief I am asking for is to be released from military prison after serving six years of confinement as a person who did not intend to harm the interests of the United States or harm any service members."
Obama's commutation represents more to Manning than a get out of jail free card — it means the freedom to be herself. 
During her time in prison, Manning has struggled to receive gender transition-related surgery, which she's said is crucial to her overall well-being. Manning pointed to her gender dysphoria as the reason why she attempted suicide in July, and it's why she went on a five-day hunger strike in protest of her prison conditions. 
A September statement from Fight for the Future detailed the ways Manning was made to present as male, despite being a woman. Later that month, news broke that the military had approved gender-affirming surgery for Manning.
Before her hunger strike, Manning wrote, "I have asked for nothing but the dignity and respect — that I once actually believed would be provided for — afforded to any living being." 
Thanks to Obama, she finally got it. 
Jan. 17, 2017, 4:42 p.m.: This story has been updated.
Correction: Jan. 17, 2017