Are Selena Gomez and The Weeknd dating? Here's the evidence — and Justin Bieber's response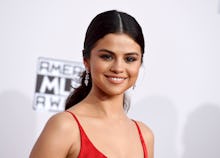 It all began when the pictures seen 'round the world momentarily broke the internet: Selena Gomez and The Weeknd were spotted kissing and getting very cozy together last week. Since then, paparazzi made sure to catch up with Justin Bieber, Gomez's ex-boyfriend, about the possible new couple. 
And Bieber's not the only ex being watched for a reaction. The Weeknd was reportedly on-and-off with model Bella Hadid for a few years, and while Hadid hasn't officially commented, like most kids these days she's taken to Instagram to subtly imply her feelings:
TMZ caught up with Bieber last week following the news that Gomez and The Weeknd may or may not be a thing, but the pop star had no comment. The "Sorry" singer buzzed past the paparazzi and didn't have anything to say ... for now. 
According to TMZ, sources close to Bieber say he thinks this is an attempt by Gomez to push new music and that she and The Weeknd are probably working on new music together. 
Gomez and The Weeknd have stayed tight-lipped so far, with Gomez posting this sneak peek of her inside the studio, teasing a new song.