'Resident Evil 7' Spoilers: Ending leaks ahead of release date to reveal character detail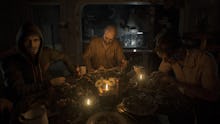 The next entry in the beloved Resident Evil series of zombie horror games is just a week away at the time of writing, but if you want to learn how the game ends, you can do that right now. If you want to avoid Resident Evil 7 spoilers, you should probably avoid your favorite gaming forums for the next week so that they don't ruin the game before you can even start playing.
Resident Evil 7 ending spoilers leak online
According to Eurogamer, early copies of the game have leaked in places like the Middle East, so concrete information about the ending is already online. Eurogamer didn't link to any online spoiler discussions, but if you want to ruin the game for yourself, NeoGAF has a dedicated spoiler thread going right now.
Without being specific, the most surprising revelation so far concerns whether or not a major series character is in the game after months of speculation.
Resident Evil 7 stars a new character named Ethan Winters who is exploring a mysterious plantation in Louisiana. Even though it has the appearance of a series reboot, it actually takes place after Resident Evil 6 and presumably has some connection to the rest of the series. 
The game launches on Jan. 24 for PS4, Xbox One and PC. It is playable from beginning to end in PlayStation VR, which is entirely optional. To see the first-person horror game in action — and without any spoilers — check out the trailer below.
More video game news and rumors
Mic has all the latest gaming news, including information on the next Pokémon Go event, hands-on impressions of the Nintendo Switch and what you get with the special edition of The Legend of Zelda: Breath of the Wild.