The artist who made the Obama 'Hope' poster brings the resistance to a printer near you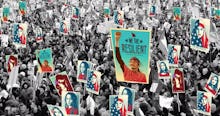 When Donald Trump is inaugurated Friday, his swearing-in will be marred by scores of protesters scattered across Washington, D.C. When Trump looks out, there will potentially be hundreds of thousands of people — all of whom will show up to voice their opposition to his presidency — looking back at him. And now, we're getting a glimpse of the soon-to-be iconic faces that will be staring at the newly sworn-in president.
Many of those faces will come courtesy of artist Shepard Fairey. No stranger to iconic images, Fairey was behind the famous "Hope" poster from President Barack Obama's first presidential campaign. 
For Trump's inauguration, Fairey has designed a new set of posters just in time for the festivities. He also worked with a foundation to raise more than $1 million on Kickstarter to print and distribute the posters, so you can count on seeing them everywhere on Inauguration Day — for free.
The genesis of Fairey's "We the People" series came out of a collaboration with fellow agitprop artists Jessica Sabogal and Ernesto Yerena. The trio teamed with the Amplifier Foundation, a group that works with activists and organizers to make compelling artwork that draws attention to grassroots movements, to launch Kickstarter funding for the poster-distribution project.
In addition to placing ads in the Washington Post in time for the inauguration, the Amplifier Foundation plans on distributing the posters on Inauguration Day at D.C. Metro stops and other locations that — like many protest actions on the big day — haven't been disclosed yet for reasons of secrecy.
Here are a few of the posters:
The Amplifier Foundation will have plenty of cash on hand to get the posters distributed. The Kickstarter was initially launched with a goal to raise $60,000, but pledges totaled $1,161,639 as of this writing.
How can you get posters of your own? Buying them on Kickstarter won't get them to you in time for Inauguration Day protests, so you'll have to wait until they become available for free download on Thursday.
If that's too long a wait, the Amplifier Foundation ran a separate campaign calling for art submissions to support the Women's March on Washington. Eight of those selections are already available to download, including original Shepard Fairey prints.
So, warm up those printers.