These are the best Oscar-winning movies of all time to watch on Netflix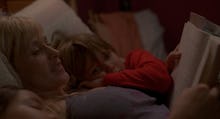 While we know Netflix can deliver your silly, binge-able TV series, lighthearted comedies and little-seen indies by the handful, the streaming service also offers some of the best movies Hollywood has ever engineered. However, the service's "critically acclaimed" sorting tag can be a little misleading. Not every "critically acclaimed" Netflix film is created equal (Kung-Fu Panda 3, anyone?), and some never received much awards attention from the Academy. 
Whether it's an animated film like Tarzan or a delicious crime drama like Pulp Fiction, here are some of the best films on Netflix that have been awarded at least one Oscar. 
Boyhood (2014)
Filmed over 12 years, Richard Linklater's Boyhood follows different stages in the life of Mason Evan Jr., played by Ellar Coltrane, using the same cast over the years to show their growth over a decade, pimples and all. We see Mason as a Gameboy-playing youngster being moved around by a single mother, as a teenager experimenting with drinking and drugs, and as a high schooler figuring out his next move. Throughout, Linklater's film feels raw, unfiltered and honest. As a result, it's perhaps the most realistic portrayal of youth ever.
Oscars: Patricia Arquette for best supporting actress
Good Will Hunting (1997)
Two of Boston's most famous dudes, Matt Damon and Ben Affleck, collaborated to write Good Will Hunting, a Gus Van Sant-directed film about Will Hunting, played by Matt Damon, a self-taught mathematician working as a janitor who is discovered by a MIT professor. Will comes from a lower-class background and the professor makes him see a therapist, played by Robin Williams, to whom he soon starts to open up about his past and so realizes his true potential. 
Oscars: Matt Damon and Ben Affleck for best original screenplay; Robin Williams for best supporting actor
No Country for Old Men (2007)
For most people, one masterpiece is enough, but the Coen brothers refused to stop after Fargo. In 2007, the two teamed up for an adaptation of Cormac McCarthy's novel No Country for Old Men, a cold crime drama that sees Javier Bardem playing sociopathic hitman Anton Chigurth, a man hired to recover the money from an ill-fated drug deal. He'll kill anyone he has to — and several people he doesn't — in order to get it back. The Coen brothers film ultimately becomes a relentless, nihilistic work of art about a world where the good is frequently at the mercy of the mad.
Oscars: Best picture; Javier Bardem for best supporting actor; Joel and Ethan Coen for best director; Joel and Ethan Coen for best adapted screenplay
Pulp Fiction (1994)
Tarantino's Pulp Fiction is a bloody and often hilarious crime drama with several overlapping narratives. The two main stories involve Vincent and Jules, played by John Travolta and Samuel L. Jackson respectively, hitmen working for crime boss Marsellus Wallace, played by Ving Rhames; the other follows Wallace himself. While on the surface it may seem like your run-of-the-mill gangster movie, Tarantino's wit, framing devices and pitch-perfect scenes (the above famous dance with Wallace's wife Mia, played by Uma Thurman, and Vincent) make it one of the most memorable pictures we have.
Oscars: Quentin Tarantino for best screenplay
Spotlight (2015)
It may not be the showiest of films, but Spotlight has a mission and a story to tell. The film fictionalizes the true story of a small team of journalists working at the Boston Globe who catch wind of a huge scandal plaguing the Catholic Church. They learn that priests are getting away with molesting young kids, and despite the fallout they could receive if they don't have all the loose ends accounted for, they manage to release one of the most powerful pieces of journalism the world has ever seen.
Oscars: Best picture; Tom McCarthy and Josh Singer for best original screenplay
Tarzan (1999)
The last film to come out of Disney's Renaissance was Tarzan, which follows the titular character, raised by gorillas, falling in love with Jane, a woman journeying in Africa with her father and several explorers. With its incredible music and tender and human love story, Tarzan absolutely deserves recognition in this canon. 
Oscars: Phil Collins for best original song
There Will Be Blood (2007)
Paul Thomas Anderson's tour de force, a Citizen Kane of our time, came in 2007 with There Will Be Blood, which follows the life of Daniel Plainview, played by Daniel Day-Lewis, a monster driven by greed who buys land cheap in California to drill oil. He ends up monetarily rich, but seemingly emotionally destitute after burning bridges with the locals and his adopted son. It's a hyper-masculine, tense film about greed and power and what we sacrifice for both.
Oscars: Daniel Day-Lewis for best actor; Robert Elswit for best cinematography